Topical Industry Issues Addressed During AkzoNobel Collision Industry Experts Event
Published June 7, 2023
OEM technologies, building a high-performance team and maximizing estimating skills and profit were some of the educational sessions held during the AkzoNobel Acoat Selected Collision Industry Experts Event in April. About 300 collision repair professionals from 23 states and Mexico gathered in Orange County, CA, to address industry challenges, facilitate skills development and promote networking. Attendees included repairers from 188 shops, as well as employees, presenters, vendors and partners.
"The purpose of the event was to bring current, relevant industry training and educational sessions to Southern California," said Daniel Carranza, AkzoNobel's U.S. sales director of vehicle refinishes west and vehicle refinishes Mexico, who planned the regional event with the assistance of Jeff Baker, senior services consultant, and Rick Fifer, services development manager.
"Holding the event came about from a need to address some of the issues in our rapidly changing industry," added Nada Jokic, the company's business consulting services manager for the west region. "Ultimately, this educational event contributed to the growth, efficiency and sustainability of the collision industry in the region."
Even though challenges exist, Jokic said the dynamic nature of the collision industry also brings opportunities for growth and success.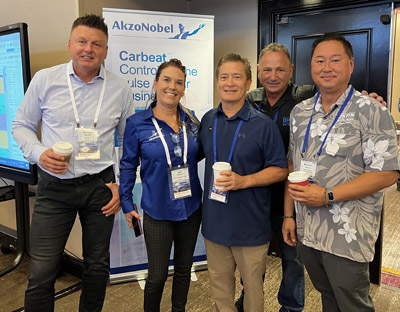 "By collaborating with their AkzoNobel business consultants, collision shops were able to work on improving operations, implementing effective strategies, and navigating the evolving landscape," she said.
Carranza said the goal was to drive energy, engagement, learning and networking. The agenda was created based on the results of a market survey conducted a few months before the event. Body shops were asked to rank eight "hot topics" they were interested in learning about.
"As an industry leader in value-added educational training for those who use AkzoNobel's premium Sikkens paint brand, our business consultants had the opportunity to provide information on topical issues impacting the industry based on the feedback received," said Carranza.
Attendees were able to customize their agenda based on the three educational sessions of most interest. Sessions were led by AkzoNobel team members Tony Adams, Thorsten Alstede, Jeff Baker, Ryan Brown, Andy Hysenaj, Scott Kirkwood and Tim Ronak.
Baker said the company's distributors had the chance to attend specific sessions designed to improve their knowledge and skills. They were also able to share best practices and strategies with attendees.
Following the presentations, a general session was held. Mike Anderson, owner of Collision Advice, talked about thriving as an independent in a consolidating collision market, and Bart Mazurek, VP of consulting & services at CCC Intelligent Solutions, discussed how today's collision trends can help increase a shop's potential.
Baker said many attendees shared the value they gained from attending the educational sessions and learning new perspectives on leadership, estimating, improving processes and production tips.
Carranza plans to offer continuing education in the future. "The industry needs more of these types of events," he said.
"Gatherings like this make our industry special," said Michael Giarrizzo, CEO of DCR Systems, who shared information about his company's patented lean production process during the event. "It was amazing to see the turnout, the camaraderie in discussing our common challenges, and the thirst for knowledge and forward-thinking solutions. Thank you to AkzoNobel for putting on a great event and bringing together such a great group of operators and notable speakers."