Page 1 of 2
'Top 10 Influences' on the Collision Repair Industry Among the Discussion at CIC
Written by John Yoswick, Autobody News
Published April 5, 2023
Frank Terlep kicked off his first Collision Industry Conference as chairman this year by sharing what he sees as the "Top 10 influences" most likely "to affect our industry." They include continued employee shortages, parts challenges and economic uncertainties. Consolidation also won't slow down any time soon, he said.
"I predict you're going to see a couple of the 'mid-market' consolidators come together," Terlep said at the meeting held in Palm Springs, CA.
He said independent collision repairers will "continue to become part of something bigger," whether that's a franchise, network or 20 Group, or growing from one store to two or more.
"The major consolidators will continue to move more toward a greenfield model than a brownfield model," he said. And the "ton" of continued consolidation among new-car dealers "is also going to drive bigger, larger dealer-based collision repair groups."
Terlep called ADAS calibration work "the biggest business opportunity this industry has seen in the last 20 years," but said it's also "the biggest opportunity to fail."
"Because ADAS and calibrations affect steering, braking, acceleration. We can't bury our heads in the sand and not do this work right," Terlep said. "It's critical, and it's the biggest opportunity in years."
Terlep predicts more and more smaller multi-shop operators will open up their own ADAS and calibration centers.
"You're also going to continue to see the big consolidators buy local and regional ADAS and calibration companies," he said. "You're going to see, in my opinion, a couple regional or national players get into the business of ADAS calibrations. And you're going to see some new software in the market specifically designed for ADAS calibrations and services."
In terms of parts-related challenges, Terlep said, "I think it's going to get a little easier, but I don't think it's going to go away. I think we're still going to have parts challenges through 2023."
He said he sees OEM certifications becoming increasingly important this year.
"Whether we like it or not, I think we're going to hear more parts restrictions occurring by manufacturers," he said. "And I also think from an OEM certification perspective, the OEM networks are going to want more data about what's going on with cars. They want to know if the cars are being repaired correctly."
Terlep said he foresees vehicle build data having increased importance for repairs and claims. "Because build data is such a critical piece to understand what's on the vehicle, I think you'll see a lot more of that being integrated in the third-party applications," he said.
Lastly, watch for new ways to validate proper restoration of vehicles' safety systems, "because if you're doing ADAS repairs or calibrations, you must document this stuff as if you're going to court tomorrow."
Terlep's presentation slides are available on the CIC website.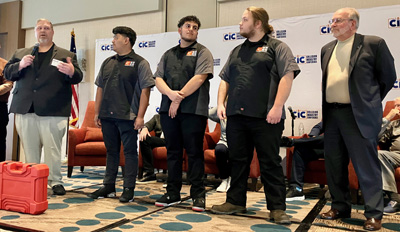 Students Receive Tool Donations
Also during CIC in Palm Springs, three auto body and paint students from the Career Technical Education Center (CTEC) in Salem, OR, received tool boxes and tools courtesy of the March Taylor Memorial Fund.
Daniel Mendoza, Eddie Ceja and Jullian Moran each received Dewalt 20-volt drills donated by Kent Automotive, plastic dent repair kits donated by DentFix Equipment, Keco Tabs donated by that company, a 6-inch DA sander donated by Astro Tools, and a variety of hand tools, including screwdriver and socket sets, vise grips, combination wrench set and a 24-inch pry bar, donated by Toby Chess. Other individuals contributing were Jordan Hendler, Barry Dorn, Jeff Hendler and Dale Matsumoto.
Oregon shop owner Ron Reichen, who participates on the CTEC industry advisory board even though his shops are more than 40 miles away from the school, paid for airline tickets for the three students and their instructor, Alex Crays, to attend the CIC meeting for a presentation of the donations.
The March Taylor Memorial Fund was established to benefit collision repair technicians. March Taylor was a shop owner in Hawaii who lived and worked in the trade; his life embodied the work done on the collision facility floor. The fund in his memory was established after his death in 2007.
Time to Review Company Drug Policies
Employment law attorney Cory King, who has regularly offered presentations for employers at CIC, said changes in the legalization of marijuana in many states makes it prudent for shops to review their company's drug policy and employment screening practices. A blanket policy valid in all jurisdictions is no longer possible, he said at the most recent CIC.