Page 1 of 2
Third-Generation Tennessee Auto Body Shop Benefits from AkzoNobel's Sikkens Business Services
Written by Autobody News Staff
Published May 24, 2023
Much has changed in the years since Walt and Ruth Stinnett established Stinnett's Auto Body Services in Maryville, TN, in 1965. While the family-owned business has built its reputation on top-notch workmanship and generations of satisfied customers, early repair techniques have given way to factory-approved procedures, technician training and investments in facilities, equipment and technology.
From the original 3,500-square-foot shop with a handful of bays, the third-generation facility now spans 25,000 square feet, including a new 12,500-square-foot addition that houses a state-of-the-art body shop, paint shop and paint booth. The company also boasts multiple OEM collision repair certifications, with ADAS calibrations performed on site.
Stinnett's Auto Body Services
Maryville, TN
865-982-7050
stinnettcollision.com
Facebook: @Stinnett1965
Instagram: @stinnettsautobody
LinkedIn: @stinnett's-auto-body
Company At A Glance...
Type: Collision Repair
Facility Employees: 16
In Business Since: 1965
Number of Locations: One
Production Space: 25,000 square feet
The shop is now owned by Zach Stinnett, the founders' grandson, who took the reins when his father, Lee, retired in 2016. Though he grew up in the shop, running the business wasn't on Stinnett's radar. He majored instead in pre-med at East Tennessee State University while working part time at the shop. He ultimately found his calling and earned a degree in business administration.
Determined, however, to broaden his knowledge and elevate the company to a higher level, he attended his first AkzoNobel Sikkens meeting with his dad. It was a revelation.
"I didn't have much industry knowledge and I needed to learn the ropes," said Stinnett. "The meeting was eye-opening. I formed relationships on that trip that I still have today."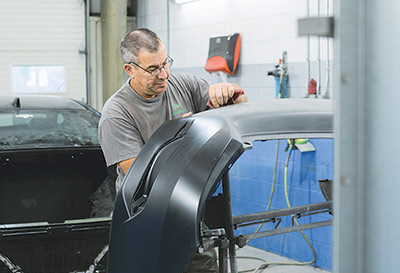 Stinnett is now a member of the Sikkens Acoat Selected Services Team and the North American Performance Groups (NAPG). Participation in the NAPG meetings is exclusive to Acoat members. The 20 Group-style meetings facilitate sharing best practices and strategies, as well as networking.
"The networking relationships are the biggest value," said Stinnett. "It's a bunch of shops talking shop. Everyone has similar issues and solutions you might not have thought of. Every time I've attended a meeting, I've learned something new or made a change that benefits the business. We also use products like Carbeat® that we were introduced to at the meetings."
Carbeat technology combines software, hardware and services to improve production efficiency. It features a touch-screen monitor, providing real-time workflow from the cloud and a production analysis dashboard. As a car goes through the production pipeline, the touchscreen displays a vehicle's progression from one department to the next. Employees can track an individual car's status and the shop's workflow. It also helps identify trouble spots.