Page 1 of 2
Texas Auto Body Shop Chooses I-CAR Training to Boost Both Veterans and Newcomers
Written by Autobody News Staff
Published May 24, 2023
On the Road Garage is a busy auto body shop with two I-CAR Gold Class locations, in Irving and West Dallas, TX, where 25 employees repair a total of about 150 cars per month.
But it's also part of a larger mission. Its parent company, On the Road Companies, was founded in 2011 by CEO Michelle Corson, and has since grown into a portfolio of a wide array of ventures aimed at getting people and communities "on the road" to success by bringing down transportation-related costs.
On the Road Garage
Irving & West Dallas, TX
214-736-4976
ontheroadgarage.com
Facebook: @ontheroadgarage
Twitter: @ontheroadgarage
Instagram: @ontheroad_garage
LinkedIn: @ontheroadgarage
Company At A Glance...
Type: Collision Repair
Facility Employees: 25
In Business Since: 2020
Number of Locations: Two
Combined Production Space: 44,000 square feet
On the Road Garage joined the fold in 2020. Not only does it provide quality collision repair services to the area, but it also boasts a Department of Labor-registered paid apprenticeship program to train people in collision repair, ADAS and other smart car technology, filling a skills gap and talent pipeline shortage. With I-CAR Gold Class recognition, On the Road Garage is demonstrating to its customers and community it is employing trained professionals who are acquiring the knowledge and skills necessary to perform complete, safe and quality repairs.
The apprenticeship program includes five pathways: body repair, painting, estimation, mechanics and technology, and office management. Each provides a blend of classroom and hands-on training, all provided by master technicians and senior management leaders.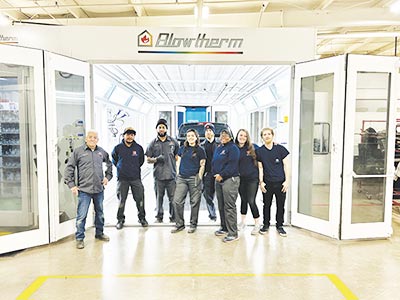 Roy Villarreal, vice president of operations for On the Road Garage, is a 30-year industry veteran who took his first auto repair class in high school because a classmate assured him it would be an easy A. "It sucked me in," he said with a laugh.
After high school, Villarreal attended WyoTech in Laramie, WY, then landed his first job at a Lincoln-Mercury dealership, sweeping floors and cleaning bathrooms. He had worked his way up to doing small body work jobs when the advent of computerized estimating---which his manager didn't understand---got him promoted to a service writer, and he progressed from there.
He has been with On the Road Garage since it opened. "One of my former bosses told me I needed to come check [On the Road Garage] out," Villarreal said. "I met Michelle, and I learned about the vision behind the work."
Villarreal said I-CAR's training subscription plays a major role in training everyone from apprentices to the 45-year industry veterans and employees teaching them because it includes live, online and virtual courses for everyone at the shop.