SCC Hosts First of 2 Days of Education and Product Demos in Virginia
Written by Stacey Phillips, Autobody News
Published April 14, 2023
Members of the collision industry from across the country traveled to the second annual Southeast Collision Conference, which opened April 14 at the Meadow Event Park in Doswell, VA.
The two-day event, hosted by the Carolinas Collision Association (CCA) and the Washington Metropolitan Auto Body Association (WMABA), offered attendees a variety of educational sessions, a tradeshow with more than 45 exhibitors, and an opportunity to network with industry peers.
See more exclusive photos by Autobody News' Stacey Phillips from the first day here.
Jordan Hendler, executive director of WMABA, and Josh Kent, executive director of CCA, planned the event for the industry to gather, learn about topical issues impacting the industry and how to address them.
See videos of Hendler and Kent at the show here.
A membership awards dinner was held the evening before the event, celebrating those who work in the industry.
Mike Anderson, owner of Collision Advice, kicked off the conference April 14 with a presentation on how to "Be Extraordinary" in the collision industry.
"In today's collision repair industry, it is no longer enough just to be average," said Anderson. "You have to be extraordinary and deliver not just great customer service but an extraordinary customer experience."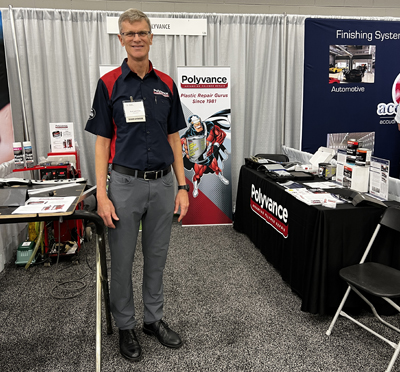 Anderson said shops today need to build a culture, deliver extraordinary quality, research OEM repair procedures to deliver a verifiable, safe and proper repair, and stay abreast of new developments in the industry. Anderson also stressed the importance of training staff and educating customers about OEM certifications.
Throughout the event, which continues through April 15, classes are being held as part of the Collision Professional Repairer Education Program (P.R.E.P.), taught by nationally recognized speakers and focused on topics such as identifying labor types and rates, organization and process, repair planning resources, and opening and operating an ADAS services and calibration business.
The program includes two panel discussions. The first, held April 14, focused on preparing shops for electric vehicle (EV) repair and management with representatives from Audi, Lucid Motors and Rivian. The second on April 15 will address industry issues and opportunities for repairers while navigating the future of collision repair.
Show organizers said every modern collision repairer, regardless of their position, will receive emerging insights and valuable information, both in the reparability of advanced vehicles and management for profitability and success.
Show attendees also have an opportunity to walk the tradeshow floor to engage with product and equipment vendors, consultants and information providers. One of the highlights on April 14 was a glue pull repair (GPR) demonstration on a Lucid Air Touring EV sedan by KECO Body Repair. Attendees were able to see this repair method first-hand on a new EV.
For more information about the Southeast Collision Conference, visit the website.