Page 1 of 2
Regional MSO Chooses Equalizer for Training and Tools to Bring Auto Glass Services In-House
Written by Autobody News Staff
Published May 24, 2023
When Star Body Works, a four-shop regional MSO in Southern Oregon that also has a suspension calibration shop and a towing business, decided to expand its repertoire to include auto glass services, General Manager Jake Jennings asked around for recommendations on the best way to do it.
"They all said, 'Hands down, Equalizer,'" Jennings said.
Jennings and three other Star Body Works employees have since completed Equalizer's one-week, 40-hour course at its Auto Glass Academy in Round Rock, TX, taught by Global Education Director Gilbert Gutierrez. After hiring another employee who already had experience in auto glass, Star Body Works can now keep all its collision repair facilities' glass work in house---saving money and cycle time.
Star Body Works
Medford and Grants Pass, OR
541-779-5621
starbodyworks.com
Company At A Glance...
Type: Collision Repair, Glass Replacement
Facility Employees: 65
In Business Since: 1948
Number of Locations: Four
Combined Production Space: 65,000 square feet
Star Body Works repairs an average of 450 cars per month between its four I-CAR Gold Class locations in Medford and Grants Pass, OR. The shops hold numerous OEM certifications, including Tesla, Subaru, Honda, Acura, Nissan, GM, Ford, Volvo, Chrysler, Kia, Hyundai and Mazda, and is close to achieving Mercedes-Benz.
Jennings said the shops pull away all glass from any panels being painted, for a factory-like finish that doesn't expose paint lines to UV rays. "That's almost every car if we're doing a quarter panel, lift gate or pillar," Jennings said.
Before, Star Body Works sublet that work to a mobile glass company that visited all four shops nearly every day. Now, it has its own van, staffed by its employees, who can do all the glass work themselves.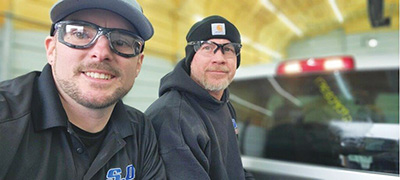 Jennings said bringing glass work in-house has several advantages.
First, the shop can make a bit of a profit off glass work now. When it was subletting the work, insurance companies would not allow Star Body Works to charge them any more than Star paid the mobile glass tech. "If I keep that in house, now I pay a labor cost, but I can make a profit off of it," Jennings said.
Second, the shop has more control over scheduling repairs and replacements. "The glass industry is stretched so thin with how much work is out there," Jennings said. "Two years ago, we could get (the sublet company) in same day (to do glass work.) Now, it's two to three days minimum."
Jennings said that is only going to get worse, as several glass companies are leaving the collision repair industry because insurance companies are putting pressure on how much shops are allowed to charge for the work. The 30-square-mile area of Oregon where his shops are located is down to only one such company.