Page 1 of 2
Mike Anderson Explains Why Collision Repair Facilities Must Be Extraordinary
Written by Stacey Phillips, Autobody News
Published May 9, 2023
If collision professionals want to dominate, they need to "Be Extraordinary," according to Mike Anderson, owner of Collision Advice. To do so, he said repairers must deliver an extraordinary customer experience, research OEM repair procedures, keep up with new developments and grow a team where people want to be part of the organization.
"In today's collision repair industry, it is no longer enough to just be average," said Anderson during a presentation held in April during the Southeast Collision Conference in Virginia. "You have to be extraordinary!"
When Anderson travels across the country, the No. 1 question he is asked is whether shops should renew their OEM certifications.
"The answer is yes," said Anderson. "Certifications matter because of the subscription-based model OEMs are moving toward, which will change everything."
There are two types of OEM subscriptions, Software-as-a-Service (SaaS) and vehicle ownership. SAAS allows users to connect to and use cloud-based apps over the internet. For example, drivers can sign up for heated seats or navigation.
With vehicle subscription programs, drivers pay a monthly fee to swap out cars. Anderson said many luxury brands, such as BMW, Cadillac, Lexus and Volvo, have rolled out programs where insurance and maintenance costs are included and only certified shops can fix the automobiles.
"There is going to be a paradigm shift where OEM referrals are going to start influencing where vehicles are going to go because of subscription-based apps," explained Anderson.
He said a well-thought-out subscription program enables customers to make a shorter commitment compared to a lease, include all expenses associated with operating a vehicle in a monthly payment, select what cars they drive, use on-demand features and personalize OEM interaction.
For auto manufacturers, vehicle subscriptions provide an annuity revenue stream and the opportunity for frequent interactions to help understand consumers' transportation needs.
Delivering an Extraordinary Customer Experience
Anderson said many shops expect getting certified will automatically bring in customers.
"That's a mistake," said Anderson. "We need to accept responsibility for getting work to the door."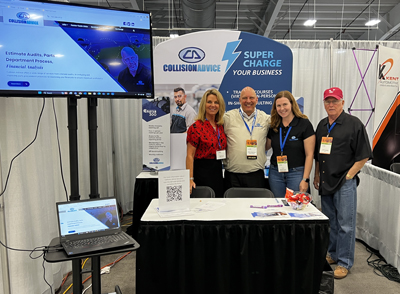 This entails gaining customers' trust and spending time on the front end, educating them about why the shop is the best choice.
"When somebody wrecks their car and calls the body shop, they feel negative emotions," said Anderson. "We need to make them feel better that they have contacted the right place and everything will be OK."
After asking for a callback number, he suggested mentioning the shop is certified and technicians have advanced training.
"If you are truly certificated, that is a differentiator," said Anderson.
Anderson explained customers are looking for "social proof."
"Just because you say you're good doesn't mean you are," he pointed out. "They want social proof that you can be trusted."
Examples are posting a listing on an OEM shop locator and sharing online reviews.
Anderson said the top indicator impacting customer experience is being informed. With the supply chain shortage, for example, he recommended providing the "no update" update when parts are on back order.
"You can't tell customers parts are on back order and then not call them for three weeks," said Anderson. "You need to call every week or every couple of days and say, 'I have nothing new to report.'"
Today's customers, according to Anderson, have liquid expectations, meaning they are fluid and ever-changing.
"We're moving to a world where consumers expect concierge service," he noted.