Page 1 of 2
Knight Enterprises LLC says ANEST IWATA's Series 2 'Blows Other Guns Out of the Water'
Written by Autobody News Staff
Published Oct. 20, 2022
From frame-off auto restorations to custom paint jobs to RV and boat repairs, Knight Enterprises LLC in West Columbia, SC, does it all.
"You name it, we've painted and repaired it," said co-owner Evan Thurber.
Thurber runs the shop with his wife, Tearsa, mother-in-law, Crystal Knight, father-in-law, Jeff Knight, who opened the collision repair shop in 1986, and several other family members.
"You feel like family when you come there," said Thurber. "Word of mouth is how people hear about our friendly service and the quality of work we do, and thankfully, we're so busy, we don't have to advertise."
Knight Enterprises LLC
Location: West Columbia, SC
(803) 796-4616
www.knightenterprisesllc.net
Facebook: @Knight-Enterprises-LLC-Auto-Body-Repair-Refinishing
Instagram: @ET_refinishtech
Company At A Glance...
Type: Collision Repair
Facility Employees: Five
In Business Since: 1986
Number of Locations: One
Production Space: 8,000 square feet
Thurber said he and his family do what they can to ensure their customers' safety, even if they can't get them in the body shop that day.
"If we go check out the situation and their bumper is hanging off, we'll secure the cover so it's safe for them to drive until their appointment," he explained. "We go above and beyond to ensure the customer is satisfied."
Thurber added that Knight Enterprises is in the process of expanding.
"Right now, we have two buildings for one location, and we're hoping to add more workspace in the future," he said.
Thurber became co-owner of Knight Enterprises in 2019 after moving from Florida to South Carolina to be with his wife Tearsa. She has 12 years of collision repair experience.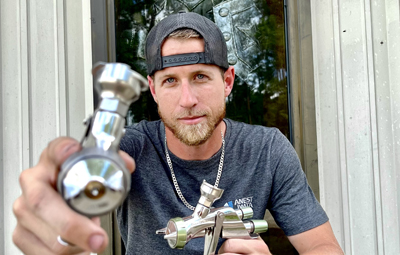 "I had been working at an auto body shop in Florida for a while, so when I joined Knight Enterprises, I took over the paint department," he said. "I'm also a combo guy and I've been helping out with estimates and body work; I lend a hand anywhere I can."
Since painting is Thurber's specialty, he's particular about the gun he sprays.
"About seven years ago, I asked my paint rep in Florida if I could demo some different brands because I wasn't happy with my current gun," he explained. "So, he lent me an ANEST IWATA LS 400, and I was like, holy moly, this is a completely different world compared to what I was using."
He has been a big fan of the Japanese manufacturer ever since.