Page 1 of 2
Illinois Auto Body Shop Relies on CCC to Stay Ahead of ADAS Technology
Written by Autobody News Staff
Published May 23, 2023
O'Hare Auto Body prides itself on being a top-tier collision repair facility. In operation since 1985, the Bensenville, IL, facility services the Chicago metro area.
Known for its top-notch customer service, technical expertise and adherence to OEM guidelines, the shop holds structural repair certifications from Tesla, Porsche, Mercedes-Benz, Honda, Acura, Ford, General Motors, Nissan, Infiniti, Kia, Hyundai, Fiat/Chrysler, Dodge, Jeep, VW and Nissan GTR.
With the arrival---and rapidly growing number---of high-tech vehicles equipped with advanced driver assistance systems (ADAS), many body shops have had to shift gears and upgrade their technical capabilities.
O'Hare Auto Body
Bensenville, IL
630-766-6668
ohareautobody.com
Facebook: @ohareabltd
Instagram: @ohareabltd
Company At A Glance...
Type: Collision Repair
Facility Employees: 30
In Business Since: 1985
Number of Locations: One
Production Space: 18,500 square feet
To keep up with an increasing need to perform vehicle calibrations and ensure the shop would continue to meet current OE repair standards, O'Hare created a new position within the company.
Lee Serling joined the O'Hare team as the lead ADAS/scan technician in 2019. "We are a high-volume shop. That's why O'Hare decided to bring on a dedicated ADAS tech like me," said Serling, who has a background in information technology (IT) and previously held an ADAS tech position at a friend's body shop.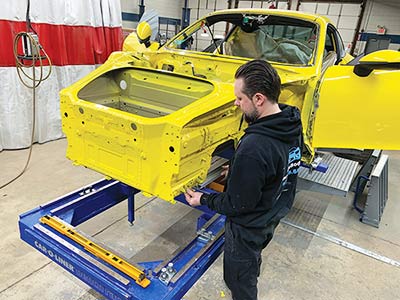 "A lot of shops have the estimator or a body tech perform the scans, but that's not necessarily their expertise," noted Serling. "To resolve some of the technical conundrums we find ourselves in during the repair process, you need to use your critical thinking skills, be dedicated to problem-solving and appreciate the sense of accomplishment that comes with getting the job done. That's my favorite part.
"With the OE certifications, we have to be knowledgeable and keep up with the latest technologies, equipment, software and manufacturer procedures. Those are our strengths and what makes us unique."
To drive the shop's performance and streamline operations overall, O'Hare relies on CCC ONE® software from CCC Intelligent Solutions. With CCC ONE, shops can improve workflow, convert estimates to repair orders, order parts electronically and standardize operations, among other services. The company also provides training on how to use its products as well as tech support.
"For a high-volume shop like O'Hare, it's helpful because we need organizational standardization," said Serling. "CCC ONE helps us with scheduling, estimates, cycle time and ordering parts."