Fully Restored Porsche 914/6 Stays in Family for More than 50 Years
Written by Ed Attanasio, Autobody News
Published April 4, 2023
Brent Maxwell, 37, manager of the national accounts team for TRANSTAR, shared a story about a classic Porsche 914/6 in his family since 1970. His father, Jack, bought it while serving in the U.S. Army in Germany and it has been in the family ever since.
Why is this vehicle considered so rare and coveted by collectors?
Basically, the difference is the six cylinders. 118,978 914s were made, and only 3,332 had six cylinders. The Porsche 914 was a joint development between Porsche and Volkswagen and was the new Porsche entry-level model in 1970. The two-seater, also known as the "VW Porsche," was a mid-engine sports car. Striking design features included the very long wheelbase for the vehicle length, short overhangs, the removable roof center panel made from glass fiber-reinforced plastic as well as the wide safety bar. The 914 also featured pop-up headlights.
At the time of its launch, the 914 was available with two engines. 914 had a 1.7-liter flat-four engine with 80 hp from Volkswagen. The 914/6 had a 2.0-liter flat-six engine with 110 hp from the Porsche 911 T. In the six-cylinder models, the ignition lock was located to the left of the steering wheel, where it is typically found in Porsche vehicles. The wheels of the 914/6 are 14-inch Fuchs mounted with five wheel nuts, and the car was built by Porsche at the main plant in Stuttgart-Zuffenhausen.
How did your father Jack acquire the car?
Yes, he was an Army captain at that time and ran a motor pool over in Germany. He special ordered it before he left the U.S. without seeing a picture, but knew it was a mid-engine two-seater. When he first got to Germany, he was driving a little Volkswagen Bug until it was ready. He had it delivered to Belgium because there was no sales tax, and then rode the train down and picked it up and drove it back into Germany.
The 914/6 obviously is the rarest of the 914s. It's a first year but then it's also a U.S. spec Euro delivery car. He knew he was going to bring it back to the States, so he ordered the U.S. version. But they actually delivered it in Europe, which is pretty uncommon.
I think he's probably the longest original owner of a 914/6. He has all the original paperwork and title. We are trying to find out if he is surely the longest original owner.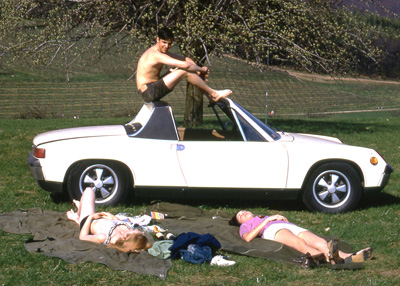 Did he drive the car a lot in Europe before bringing it home?
Yes, he was really into Formula 1. He drove the car all over Holland, England, Germany, Belgium and went to many of the different Formula 1 races back then. So, the first original 40,000 miles of the car is all in Europe, a lot of that on the Autobahn and just going around to different races.
He brought it back here in 1973 and had it delivered by boat to Florida. He drove it straight from there to New Mexico where he lived at that time. And then he packed up everything in New Mexico and moved to Tulsa, OK, where we live now.
I think the car was originally taken apart sometime in the 1980s. It sat disassembled for a long time. I mean, it was at that time the cars weren't as valuable as they are now. The shop that ended up doing some of the restoration work was Huber Restorations in Tulsa, OK. They are known for their work on Porsche, Mercedes, German cars, etc. and do amazing work.
You were able to paint the vehicle while in tech school?
In 2005, I was in the Tulsa Technology Collision Repair Program with Mr. Brian Buford and we brought the car in and it was my first paint job that I'd ever done outside of what we learned in class on a few panels. So that was whenever we got it painted and finished what had been done by the previous restoration shop. I had some friends of mine that were students who helped me paint it.
In 2016, I repainted the exterior at Straightline Auto Restoration, after my dad rebuilt the motor, and it was finally roadworthy and what it looks like now, as far as having the interior done and everything else like that completed on the vehicle.
Does the car get used on a regular basis?
Yes, it's fun to drive. It's been in a few different shows. My dad takes it out to the cruise nights that are here in Tulsa. I've already threatened my 8-year-old son Jack that he's not allowed to sell the car and it's going to stay in the family!