Page 1 of 2
Freeman Collision Center Nurtures Culture of Merit, Praises New ANEST IWATA Spray Guns
Written by Autobody News Staff
Published May 24, 2023
Before the owners of Freeman Motors, a certified Toyota and Lexus dealership in Santa Rosa, CA, broke ground on a soon-to-be-built auto body shop, they toured the country to check out other top-notch shops. The resulting facility---a 43,000-square-foot body shop---opened its doors in 2001.
Freeman Collision Center currently holds structural repair certifications from Toyota and Lexus and was professionally recognized as the 2022 Lexus Shop of the Year. According to Shop Manager Jesse Parks, the company is the only dealer-owned, Lexus-certified collision center between Bakersfield and the Oregon border, a distance spanning some 800 miles. It is also the only Toyota-dealership-owned collision center within a 300-mile radius. But these are not the shop's only claims to fame.
Freeman Collision Center
Santa Rosa, CA
707-542-2349
freemancollisioncenter.net
Facebook: @Freeman-Collision-Center
LinkedIn: @freemancollisioncenter
YouTube: @Freeman Collision Santa Rosa
Company At A Glance...
Type: Collision Repair
Facility Employees: 33
In Business Since: 2001
Number of Locations: One
Production Space: 43,000 square feet
"What sets us apart is the quality of work we perform. We only use OEM parts, we perform all calibrations in-house using OE software and scan tools, and we're very rigorous in adhering to the OEM procedures," said Parks, who joined the company in 2019.
"The owners built what is still considered a state-of-the-art facility. We have only the best of the best equipment," Parks said---everything from Car-O-Liner frame racks and an overhead Eurovac dust removal system to lighted and heated down-draft paint prep stations as well as drive-through Blowtherm paint booths, to name a few.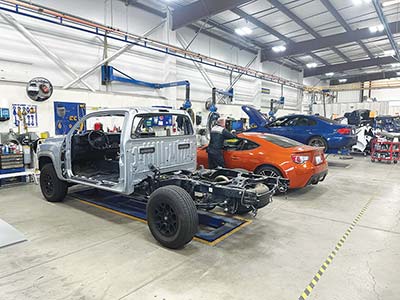 As a high-volume shop that services an average of 100 to 120 vehicles monthly, and prides itself on superior-quality workmanship, it's equally essential for technicians to have access to the latest and most advanced tools. Having worked with ANEST IWATA for many years, the company had an opportunity to test some new spray guns. Parks said the reaction was overwhelmingly positive.
"I've been using ANEST IWATA spray guns for almost 20 years," said Joe Piehoff, painting production technician. "I currently spray base coat with a 1.3 LPH-400 with an LVX orange cap (and) clear coat with a 1.3 LPH-400 with an LV cap."
Piehoff noted he was able to demo the new WS 400 Series 2 digital line of base and clear guns. He was also able to test both the OBS and the OBS + 1 tips for the base gun.
"These guns are visually stunning," said Piehoff. "The finish on the Series 2 far exceeded my expectations. And the removable digital gauge is icing on the cake. The base gun atomized and sprayed beautifully.