Page 1 of 2
FindPigtails.com Helps Gibson Automotive Speed Up Cycle Times
Written by Autobody News Staff
Published May 24, 2023
Gibson Automotive in Greenville, TX, has undergone several transformations since its doors opened in 1969.
"We originally opened as Joe Gibson Ford, then transitioned to Oldsmobile Cadillac," explained Brent Ash, the estimator at Gibson Automotive. "In 2016, we changed operations to focus primarily on collision repair."
The family owned and operated business holds an I-CAR Gold Class title and stands out by providing customers with a "miraculous quality of work," said Ash.
Gibson Automotive
Greenville, TX
903-454-9111
gibsonautomotive.com
Company At A Glance...
Type: Collision Repair
Facility Employees: 21
In Business Since: 1969
Number of Locations: One
Production Space: 15,000 square feet
FindPigtails.com, a long-time vendor partner, has helped Gibson Automotive offer dependable repairs and efficient turnaround times to its tight-knit community.
"With all the expanding electronics and how hard harnesses are to get, there are certain things you just need a pigtail for," Ash explained. "So, FindPigtails.com has fulfilled a huge need for us."
Ash said typically, Gibson Automotive contacts the vendor for fog light pigtails.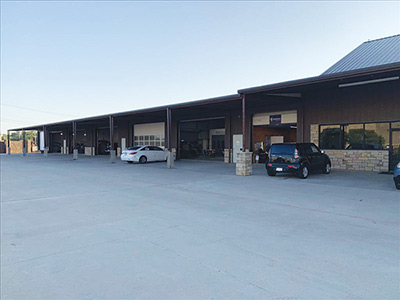 "There are connectors---pigtails---throughout the car---front end, rear end, headlights, tail lamps and radar connectors for cruise control systems. So any time one of these areas gets damaged, hopefully, the shop catches it ahead of time, which Gibson Automotive always does," said Ruston Blanchard, general manager for FindPigtails.com. "Some shops don't catch that they need a connector until the very end when they're about to ship out the car. This happens because they're not used to looking for a connector, which is basically a needle in a haystack."
Blanchard, who initially worked in vehicle diagnostics, said deciphering whether the car needs a pigtail is an acquired skill.
"You've got this huge impact with all this other damage, so a little plug on the end of two wires can easily get missed," Blanchard explained. "So, as the shops work with us, we help them identify what they need, or if what they think they need, is correct."
He said body shops eventually get to the level Gibson Automotive is at and will know they need a pigtail sooner than later.
"At that point, the shop sends us a picture through our website chat, text line, email or the FingPigtails.com app," Blanchard said. "I then send back a price, they tell me to ship it, and we're done. It makes everybody's life super easy."
Ash said he uses the convenient text line FindPigtails.com offers.
"I can't remember the last time FindPigtails.com didn't have something we needed," Ash said. "They treat us right, and they take care of us. Ruston is my main salesman over there, and he's awesome."
On the rare occasion FindPigtails.com doesn't have a compatible connector in-house, Blanchard said he will hunt one down for the client.