Page 1 of 2
Brooklyn, NY, Auto Body Shop Proud of Its New Autel IA800 System
Written by Autobody News Staff
Published May 24, 2023
They say things move quicker in New York, and people expect their cars back faster as a result. A demanding customer base wants it today---and don't think about skimping on the quality.
That's why Knights Collision & Auto Care Center in Brooklyn, NY, uses the IA800 Intelligent ADAS Optical Positioning System on roughly 100 cars every month. The crew has been using it for more than a year and is still raving about its accuracy, reliability and ease-of-use. It helps them get their discerning customers' cars back fast---and earn top notch reviews as a result.
Knights Collision & Auto Care Center
Brooklyn, NY 718-963-4447
knightscollision.com
Facebook: @knightscollision&autocare
Company At A Glance...
Type: Collision Repair
Facility Employees: 16
In Business Since: 1948
Number of Locations: One
Production Space: 30,000 square feet
President Sean Cusick assumed control of this 75-year-old shop in 2013 after working his way up the ladder. He designed the company's state-of-the-art workflow, integrating production, accounting and HR methodologies to build the business to where it is today. Acquiring top equipment like his Autel IA800 has been another big part of the formula for success.
Hiring and retaining talent has also been instrumental in helping Knights Collision to shine in a very competitive market.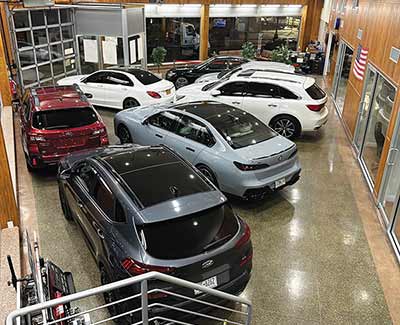 "I have people who have been here for 15-20 years and we don't get them jumping to the competition," Cusick said. "My partner, Chris Kalinowski, came here 25 years ago from Poland, and now he is a New York State licensed appraiser and I-CAR Platinum, for example. We create a family atmosphere and let them know they're valued and it works well. We don't have any vocational schools around here, so it's not easy, but we actually have people all the time who want to come here. If I see someone who has potential, I will usually give them a shot, and we have hired a lot of people that way."
One employee who Cusick gave a great opportunity is Josh LaTouche, an estimator who accepted the role of running the company's ADAS department. He is the company's go-to guy when it comes to the shop's diagnostics, a position he is proud of.
"Josh was a tech and then he had to take off some time off ,when he got a knee operation and we discovered that he was very computer savvy," Cusick said. "During that period, he became a certified state estimator and also began learning about automotive diagnostics."
When customers come into Knights Collision, they can see LaTouche working on the Autel IA800 displayed in full view.