Page 1 of 2
Beverly CoachCraft Calls Industrial Finishes and Systems 'More Than Just a Distributor'
Written by Autobody News Staff
Published May 24, 2023
When you're repairing the finest vehicles in the world, you need to work with world-class companies to ensure your success. Co-owners Bryan Thompson and Dan Schimpke at Beverly CoachCraft in West Los Angeles, CA, know this very well.
So, back in October when they were looking for a new paint jobber, they hoped to find the right company, and they did. Industrial Finishes and Systems matches their culture in many ways, and the move has already benefitted them greatly on multiple levels.
Beverly CoachCraft, Inc.
Los Angeles, CA
310-477-6561
www.beverlycoachcraft.com
Facebook: @beverlycoachcraft
Instagram: @beverlycoachcraft
LinkedIn: @beverlycoachcraft
Company At A Glance...
Type: Collision Repair
Facility Employees: 31
In Business Since: 1979
Number of Locations: One
Production Space: 30,000 square feet
In 1985, Schimpke was hired as a technician and two years later, he acquired half the business from its founder, Peter Sardi. Last year, Thompson became the company's co-owner, and today he and Schimpke run the show together at Beverly CoachCraft. It has become a special relationship between partners who share the same goals.
Beverly CoachCraft is a Mercedes-Benz Elite and EQ Certified shop, and also certified to work on Teslas. Thompson said the shop also specializes in working on exotic and "hyper-exotic" vehicles and unique vehicles.
To thrive in that "top tier" arena, Beverly CoachCraft needs to hire and retain the industry's best techs, estimators and painters.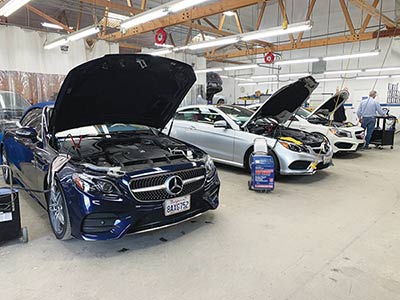 "The short story is we're looking for winners to meet our revenue goals while heavily focusing on the culture of the shop," Thompson said. "As we know, the current market has elevated demands for technicians' salaries. That is why we have to choose our projects wisely, so that we can support top technicians and attract new talent."
For that reason, they do a lot of little things that go a long way with their employees, Thompson said.
"We have benefits, and we buy them lunch once a month. We have a gaming area for the employees to unwind. We have more of a European business model, where labor has a voice in our operations," he said. "We bring in young people as apprentices to even out the workload from the journeyman technicians. The guys are treated with dignity and respect, which is probably the most important thing."
In return, the employees at Beverly CoachCraft are expected to work safely and perform factory quality work.
"We do regular factory service engineer document lookups during each repair," Thompson said. "All of the structural and mechanical repairs have service engineer lookups done and carefully documented. Things like torque wrenches are calibrated annually. The technical aspects of riveting, bonding and welding are addressed during regular training. As a result, we have a culture where all of our people are a very valuable part of our business, and I believe it works well for that reason."