Page 1 of 2
Auto Body Shop Saving Time and Money After Switching to Axalta's Spies Hecker® Permahyd® Hi-TEC
Written by Autobody News Staff
Published May 24, 2023
Bamford's Collision Service in Fredericton, NB, Canada, has stayed in business for more than four decades by living by the motto "Good enough is not good enough---it has to be right."
Owner Jerry Bamford opened his shop in its first location in 1982, after training and working at other area shops for several years. Later, he seized an opportunity to relocate his business to a larger building, increasing the number of work stations from four to 15.
Bamford's Collision Service
Fredericton, NB, Canada
506-458-8448
bamfordscollision.com
Company At A Glance...
Type: Collision Repair
Facility Employees: 14
In Business Since: 1982
Number of Locations: One
Production Space: 6,000 square feet
Since then, Bamford's Collision Service has built its reputation as an independent shop producing high quality repairs that come with a lifetime guarantee, with a staff that believes in the mission, several of whom have worked for Bamford's for more than 30 years.
"That's a testament to how [Jerry Bamford] operates and how the business works," said General Manager Chad Farrell, who has been with the company for a decade.
"We're not connected to any banners," Farrell said. "We're proud to be independent, as we have more flexibility that way."
In May 2020, the single-location, 6,000-square-foot shop bought A Plus Auto Glass, an auto glass business to which it used to sublet work.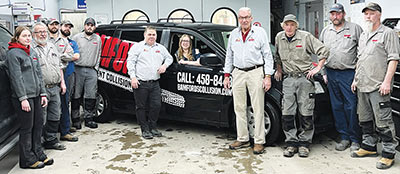 "It just went hand in hand with collision repair," Farrell said of the reasoning. A Plus also sells accessories, like tonneau covers and vent visors, that can get damaged in a collision and need to be replaced. "It makes sense to have your own avenue to buy those," Farrell added.
Farrell said he got into the collision repair industry in a "roundabout way." An electronics engineering technician by trade, he started in the gaming industry, then worked in the security industry for nine years. A friend who happened to be the accountant for Bamford's Collision Service thought Farrell would be a good fit at the company, and introduced him to Bamford.
Farrell had grown up "tinkering around cars" since he was 8, with his uncle, a mechanic in a small town. "I always had a fascination with cars," he said. "It became a perfect match."
Farrell said he has been able to apply some of the things he learned about management in the gaming and security industries to collision repair. His electrical engineering background also gave him experience with things like sensors and modules, which came in handy as the technology on cars rapidly evolved.