Page 1 of 2
Alignments with Hunter Engineering 'Major Profit Center' for K & M Collision
Written by Autobody News Staff
Published May 24, 2023
Kevin and Meredith Bradshaw opened K & M Collision in 1991 in Hickory, NC. Over the last three decades, the mom-and-pop operation has grown from three employees to 35, earning 33 OE certifications and becoming I-CAR Gold Class.
"Our facility is right at 35,000 square feet, and we're adding 12,000 hopefully by the end of the year," said Michael Bradshaw, vice president of operations and son of the founders.
When Bradshaw started working at the family owned and operated business in 2006, it earned under $1 million a year.
"Last year, we eclipsed $1 million dollars in monthly revenue," he said.
K & M Collision
Hickory, NC
828-569-1275
kandmcollision.com
Facebook: @kandmcollision
Twitter: @km_collision
YouTube: @KandmcollisionHickory
Company At A Glance...
Type: Collision Repair
Facility Employees: 35
In Business Since: 1991
Number of Locations: One
Production Space: 35,000 square feet
Bradshaw said his and his family's foresight has led to success.
"We got ahead of the OE certification curve," he explained. "We trended toward the higher-end brands like Porsche, Lucid, Jaguar and Land Rover, which we now specialize in."
Bradshaw added K & M Collision makes a "commitment to quality."
"We won't use aftermarket parts in our facility," he said. "We operate on being the best at what we do, and we don't make any apologies for that."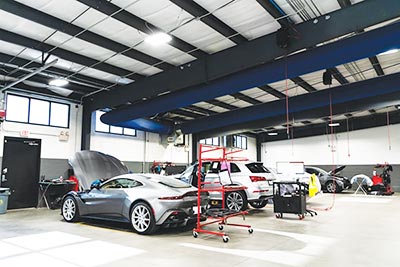 K & M Collision houses top-tier equipment from Hunter Engineering Co. to meet multiple manufacturer certification requirements. The body shop uses Hunter's Flush Mount Rack and Aligner, the Road Force® Elite wheel balancer, and the Auto34S tire changer (TCA34S).
Bradshaw said K & M Collision started using an aligner from Hunter Engineering after a conversation with a local dealership.
"At that point, we were subletting all of our alignments," Bradshaw said. "We had a vehicle that stayed at the respective dealer for about a month; they kept changing parts on the vehicle because they claimed they couldn't get it to align properly."
Shortly after, one of K & M Collision's other dealer partners put in a new Hunter aligner and gave away its old alignment console.
"We put the old alignment console in our shop to test out, and within three months, we purchased a brand new Hawkeye Elite® machine," Bradshaw said. "From then on, we've performed pre-alignment checks on every vehicle that comes through the facility."
Bradshaw explained a "conventional shop" alignment process versus the process K & M Collision implements with the Hunter aligner.