3M™ RepairStack™ Performance Solutions & Additional 3M Products Introduced to Optimize Shop Efficiency and Performance
Written by Stacey Phillips, Autobody News
Published Nov. 9, 2022
From teardown to refinishing, 3M has touchpoints across the collision repair process. During the 2022 SEMA Show in Las Vegas, NV, the company took attendees on a journey through its products and solutions, created to help enable a profitable body shop of the future.
Part of this journey included the launch of 3M™ RepairStack™ Performance Solutions in the U.S. following 18 months of beta testing. The new connected platform was created to assist shop owners and collision repair general managers with information relating to shop performance, invoicing and material usage.
"Combining hardware and software to optimize shop efficiency and performance for shop owners and collision repair general managers, 3M™ RepairStack™ Performance Solutions is 3M's digital backbone for the automotive aftermarket," according to a 3M press release.
Many collision repair shops are facing challenges, including a reduction in gross profits due to labor shortages, increased complexity of repairs, decreasing parts discounts and increased replacement work. As a result, 3M explained, shop owners must grapple with a lack of visibility and a clear understanding of shop performance while experiencing increasingly tight margins in a complex repair environment.
By introducing 3M™ RepairStack™ Performance Solutions, 3M said it is pioneering an era of connected body shops to help businesses unlock opportunities for profit, efficiency and growth.
"Operational efficiency inside a shop is critical for long-term business and customer success," said Dave Gunderson, president, 3M Automotive Aftermarket Division. "That operational efficiency is what we're striving to simplify with 3M™ RepairStack™ Performance Solutions. In an increasingly digital landscape, this customized, connected solution provides the fast clarity and transparency needed to drive optimal value from materials and labor."
3M™ RepairStack™ Performance Solutions features hardware that houses all 3M allied materials. As an integrated and automated platform, 3M shared its three key benefits: an inventory management system ensuring materials needed for safe and reliable repairs are always available, a streamlined blueprinting and billing process, and real-time insight into business performance.
The software tracks material usage by technician, shop, repair order and more, while enabling automated re-ordering of products based on inventory stock levels and direct connection to preferred distributors. 3M explained shop owners can easily manage their materials by maintaining a consistent inventory while at the same time reducing waste and emergency orders.
"Better managed inventories empower technician training and increased technician performance and satisfaction, allowing hands-on work to remain with the vehicles," according to a 3M press release.
"Since the beginning of this project, it has been fun working hand-in-hand with the customer to build this tool," said 3M Automotive Aftermarket Specialist Ryan Fuller during the SEMA Show. "The feedback we've received is overwhelming, including runner up in the SEMA Best New Product Awards for collision repair and refinish product."
He noted participating shops have shared the software is helping them keep a good hold on their materials, reducing the on-hand quantity and ensuring they always have the products needed to keep production going.
3M™ Perfect-It™ Random Orbital Polishing System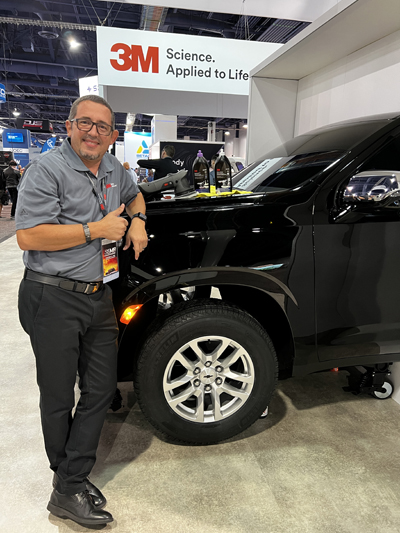 3M announced it is launching a new paint refinishing system in early 2023, the 3M™ Perfect-It™ Random Orbital Polishing System, which won a SEMA Global Media Award at this year's show. 3M said the goal of any paint finishing process is to restore panels to their proper state---free of defects with a high-quality finish. The professional grade set of tools, pads and polishes from 3M was created to help technicians achieve sleek, consistent results.
Typically associated with detailing, but redesigned for the collision repair industry, 3M™ Perfect-It™ Random Orbital Polishing System can help eliminate swirl marks and other defects common with traditional rotary tools.
"It's very easy to use… and is safe for a body shop," said Rafael Ledesma-Rivera, 3M senior application expert-regional and country AAD, during the SEMA Show. "Everything stays cleaner and swirl marks are a thing of the past."
"Every technician wants their final finish to look as if the car had never been touched," said Jenny Thill, global marketing manager at 3M. "The polishing tool is easy to use along with our liquids and pads that make up the complete system."
3M™ Performance Spray Gun
As paint prices increase and body shops experience continued cost pressure, 3M said material savings are key to successful business operations. Introduced in 2021, the lightweight 3M™ Performance Spray Gun allows painters to mix less paint and receive the same or better coverage. 3M said the spray gun's transfer efficiency offers up to 26% less material waste than leading metal spray guns.
3M engineers spent more than 10 years designing and developing the product to ensure it would deliver superior performance in paint application and process improvements. It was created to deliver top-of-the-line performance with revolutionary technology for faster cleanup, changeovers and cycle times.
"The first thing that anyone notices is how lightweight it is," said Brady Haislet, a 3M application engineer who was a product developer for the gun. "Having a lightweight spray gun is the key to usability, ease of maintenance, clean up and cycle time; with replaceable itemizing heads, it delivers on productivity."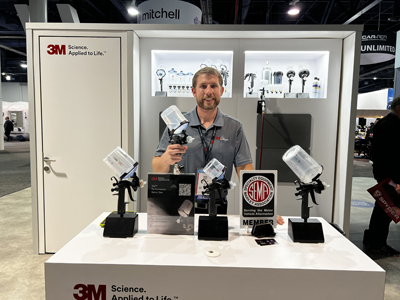 Before it launched, the 3M™ Performance Spray Gun was tested for transfer efficiency compared to other leading HVLP traditional metal spray guns at the Fraunhofer Institute of Technology, a third-party research organization. The 3M™ Performance Spray Gun was measured to have the highest transfer efficiency of 78% versus any other leading HVLP traditional metal spray gun in the market, according to a company press release. Since then, 3M said customers reported this transfer efficiency presented paint material cost savings with less paint needed to produce the same or better results.
"Paint is nearly as expensive as the painter, and shop owners can't afford to waste either one," said Corey Munn, global paint applications segment director, 3M Automotive Aftermarket Division. "We've worked with leading shops, paint companies and painters around the world to develop a solution that achieves comparable or better results with less material."
3M Cubitron II net abrasives
The 3M booth also showcased 3M Cubitron II net abrasives, introduced in 2021. The net abrasives use 3M's patented precision-shaped grain material, which the company said allows the solution to cut twice as fast and last twice as long as other net abrasives families. In addition, it has been shown to capture more than 97% of the dust created when sanding in a shop.
"In the United States, we're really starting to see a shift in people wanting a cleaner environment," said David Woods, 3M global business development manager for commercial vehicle and marine, during SEMA. "With the technician shortage, it's hard to keep good employees, and if you are putting them in a dirty environment, they typically find somewhere cleaner to go."
For more information, visit www.3m.com/3M/en_US/collision-repair-us.