Page 1 of 2
Mitchell Hosts High School Students to Show Career Opportunities in the Collision Repair Industry
Written by Abby Andrews, Autobody News
Published June 1, 2023
San Diego, CA-based Mitchell recently teamed up with the owner of a regional MSO and a local high school to show students in both the automotive repair and robotics programs career possibilities they might not have considered before.
Over two consecutive days, about 50 students from Santana High School in Santee, CA, first stopped by Mitchell's Technical Research Center in San Diego, and then visited Fix Auto Poway.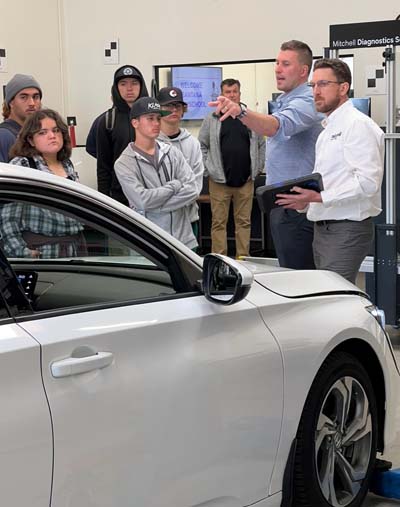 At Mitchell, students saw a static calibration of a 2018 Honda Accord equipped with ADAS features along with 3D imaging software, used to determine vehicle dimensions that appear in the company's estimating solution and database of repair and reference information. They also got a chance to look at a pair of Rivian R1T electric trucks. After lunch, they went to Fix Auto Poway to see every step of the repair process, from intake to delivery.
The demonstration was part of Mitchell's efforts to address the growing technician shortage problem in the collision repair industry; the company also donates software subscriptions to schools around the country through the Collision Repair Education Foundation (CREF), and is a supporter of the Enterprise Holdings Foundation and Ranken Technical College collision engineering program.
Scott Baierl, senior vice president of engineering and content for Mitchell, said the hope is to show young potential technicians all the cool new technology on today's vehicles to get them interested, while helping schools get the tools needed to train them.
He said he got the idea to also invite students in robotics programs when his daughter took a robotics class and he noticed similarities in the components of robots and new cars.
Luke Burger, senior solutions specialist for Mitchell, told the students the goal was to show them all the different facets of the automotive industry, especially collision repair.
"We want you to see the software, tools, different components to get data from vehicles," he said. "Hopefully you'll find something interesting."
Ben Sikora is the auto body instructor at Santana High School. He said when he took the job at the beginning of the previous school year, it was clear the program had "gotten passed by the industry over a decade ago."
"It was important to modernize it so students are ready to get a job working on cars that actually exist," Sikora said.
Sikora got to work immediately applying for grants with CREF and other organizations. He has won enough funds to purchase new welders and a waterborne paint-mixing system, and will soon have estimating software, thanks to Mitchell. He said he hopes to also get a calibrating system like the one demonstrated.
"Cars are changing, but they're not going away," Sikora said. "People are still banging them into each other."