Page 1 of 2
Lucid Air Features Unique Design, Repair Considerations
Written by Stacey Phillips, Autobody News
Published April 6, 2023
Following the delivery of Lucid Motors' first customer vehicle model in late 2021---the Lucid Air---the luxury electric vehicle (EV) manufacturer has ramped up production. By year-end 2022, Jake Rodenroth, Lucid's North American body repair program operations manager, said it was "all hands on deck." This allowed Rodenroth to work with the service and sales teams, onboard customers and deliver vehicles.
Rodenroth shared information about Lucid Motors' vehicles during an AkzoNobel North American Performance Group event in February.
Founded in 2007, Lucid is headquartered in Newark, CA. The company's debut product, the Lucid Air, was named 2022 MotorTrend Car of the Year, the first time any vehicle manufacturer received the award with its inaugural vehicle.
"It was a really big achievement for our first product the first year of launch," said Rodenroth.
The Air can be reserved and ordered in retail shopping centers and online. The model currently has four trim lines. They include the Air Pure with 480 hp and a 410-mile range starting at $87,400; the Air Touring with 620 hp and a 425-mile range from $107,400; and the Grand Touring with up to 1,050 hp and a 516-mile range from $138,000. The Sapphire and Stealth packages will follow.
The EVs have an eight-year warranty, which includes 100,000 miles on the powertrain and battery.
Lucid's Gravity SUV is expected to be released in 2024.
Design Features
Fast like a sports car but with a large storage capacity, Rodenroth said the EVs were designed to offer several features using one platform, the Lucid Electric Advanced Platform (Leap). The integrated drive unit comprises an electric motor, inverter and transmission weighing only 163 pounds and capable of 670 hp each.
To achieve Lucid's range and performance, Lucid's aerodynamics team worked with its design and engineering counterparts to prioritize aero efficiency.
Rodenroth discussed Lucid's aerodynamic air-curtain technology, which includes a small air intake (grill), a vortex system, a side air curtain and a small headlight aperture that helps with headlight cooling.
The bottom of the car is flat and designed to have a smooth surface to improve aerodynamics.
"That matters when you're trying to jack up the car," said Rodenroth. "When accessing the drive unit, numerous trim pieces will need to be removed."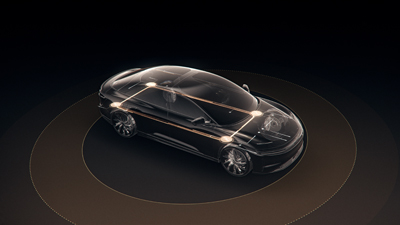 Lucid vehicles have a 12v power-up harness behind the passenger rear wheel liner, in the event power to the vehicle is lost. This enables the trunk, "frunk" and doors to be opened with key fobs present.
The vehicle's advanced technology was engineered and designed in-house. This includes a speed form taillight and intelligent Micro Lens Array headlamps. The bright and precise lighting system has 9,740 lenses per pair of headlights.
Lucid provides over-the-air (OTA) software updates offering vehicle owners new features.
Repair Considerations
For repairers who have never driven an EV, Rodenroth highly suggests renting one.
"It's a big learning curve that even some of the legacy OEMs are struggling with because they're so different than gas cars, in regard to servicing and selling them," he noted.
Rodenroth said technicians must learn how these vehicles and their charging systems operate to do a proper repair.
"It's not enough to go through the training to learn how to take the cars apart and put them back together," he said. "You also need to understand how they work with the owner."
This includes using the mobile app and the connectivity vehicle owners have with the ability to check their vehicles, even if they aren't in their possession.
For repairers, Rodenroth said EVs bring additional opportunities for added services to customers. Many have a large, painted frontal area, which means there will likely be more stone chips.
"If you're not in the paint protection film business, I highly recommend it," he said. "It's a value-add to your facility."
During a repair, the Lucid Air body structure doesn't permit welding; instead, a rivet bonding process is used, requiring the correct tooling, training and adhesive.
Regarding special tooling, Lucid uses 3D printers to print service tooling for its Lucid Certified Body Repair Network shops.
"We try to think about the technician working on this car," shared Rodenroth.
DreamDrive is Lucid's advanced driver-assistance system (ADAS) with 32 multi-model sensors and 14 cameras. The combination of sensors and mounting locations means shops will have to pay attention to Lucid service resources and capture and perform all necessary calibrations.