BASF's Automotive Refinish business recently awarded its 2014 ColorSource™ Distributor of the Year Award to Colortone Automotive Paints at its annual ColorSource Conference.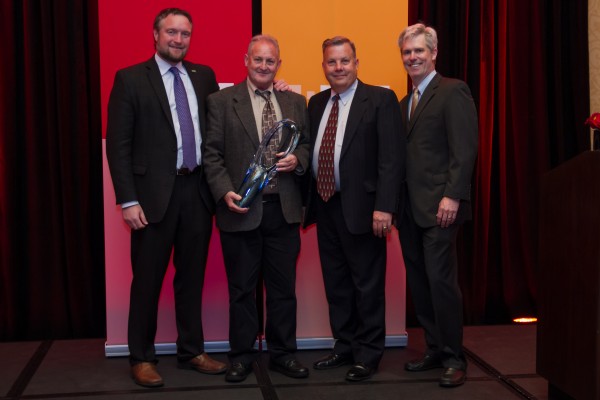 Sandy Reshes, co-owner of Colortone Automotive Paints, (second from left) accepts his award from (left to right) Paul Whittleston, BASF Vice President; Rich Hougland, BASF Regional Manager and John Moreau, BASF Key Accounts Manager.
"The Los Angeles market is one of the largest and most competitive in the country. In this challenging market, Colortone has achieved double digit growth over the past three years and in 2014 delivered more than 20 percent growth," said John Moreau, Key Accounts Manager for BASF Automotive Refinish in North America. "Not only do they deliver growth, they also have a strong retention rate due to their high levels of technical training and service."
Formed in 1933, Colortone has been a ColorSource distributor for 20 years and has been family-owned since 1979.
"We are humbled and honored to receive this award from BASF," said Sandy Reshes, Co-owner of Colortone. "I work with a great team of people and it's because of their efforts that we were able to achieve this milestone."
Paul Whittleston, Vice President of BASF's Automotive Refinish business added, "Our ColorSource community grew their paint business by more than 14 percent in 2014. This growth clearly demonstrates that with great partnership and focus comes great rewards. We look forward to growing and expanding ColorSource in 2015."