Click HERE to download a PDF of this article.
1. Making sure everything is put away in the correct place after each job
2. Ensuring that all workers use an accurate amount of each material in order to prevent waste
3. Holding employees accountable for their actions.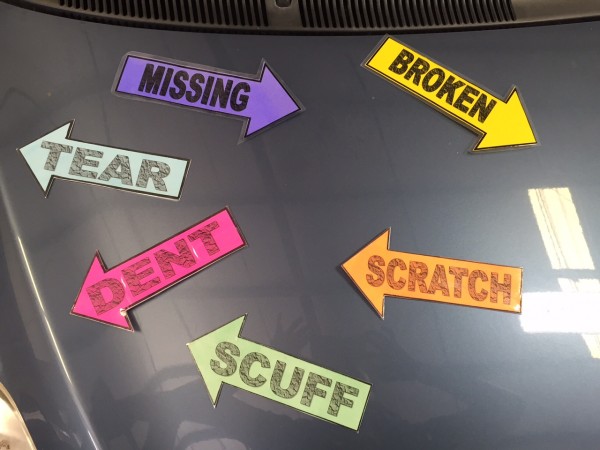 The lean process puts emphasis on organization and labeling.
These three tips fall in line with the 5 S's - sort, set in order, shine, standardize, and sustain – that were emphasized during the SWAF courses.
The California shop adopted and implemented Nuventory's Standard Operating Procedures (SOP), which allows them to manage their materials, track usage, and streamline ordering to "just-in-time" inventory, according to Nuventory CEO Leslie Ross.
"Using Nuventory's technician usage tracking, M & M is able to gain visibility on materials per hour and pinpoint where there might be waste, or needed training," added Ross.
"There is no need to hand out whole boxes of sand paper or gallons of body filler," and if too much waste is being produced by an employee, the issue can be corrected in an efficient manner, explained SWAF sales associate Hilary Castro.
Ross trained co-owner Rosie Magos on how to most effectively utilize her inventory management system.
"There are visible indicators of lean and there are also some invisible indicators. Customers who get to see the body or paint department can only see the visible indicators," explained the independent shop's co-owner, Rosy Magos. "In a small town like ours, most people walking into a body shop expect to see a dirty place where everyone is tripping over parts, untidy technicians, etc. Our shop has never been that bad, but focusing on the 5S part of lean has made us prouder to allow customers to see their vehicles during repair. The shop in general looks like a dealership."
Magos said her 'internal customers' (employees) are the ones who get to react to the individual indicators, which include a more profitable shop, more money in the tech's pockets, vehicles driving out in a shorter amount of time than before, and a lot less unhappy customers.
"Technicians are now more engaged in what makes them money versus moving around clutter to try and move a car, get a part, or find a part, or worrying about running out of a specific material when you need it the most, etc.," said Magos. "This translates to less frustration for them and less work for me."
Magos added that, not only are jobs completed a day or two ahead of the previously scheduled out date, but profit has increased 27 percent in the last year.
"It took a good three months to start seeing real results and start calling ourselves 'lean,' but one thing I learned at the Eco-Lean Courses from Sherwin-Williams was that this is a journey and not a destination. Which means…we're not there yet," said Magos. "We've made tremendous progress ... but we'll never arrive to perfection. Products keep changing, vehicles keep changing, and new ideas on how to save time, space, materials, and money keep popping up in your minds. Every new job is another challenge to pair up the right technician, with the right tools, using the right materials at the best price, getting the right parts undamaged and on time, the right timing to get to paint, the right time to have it washed and up front for the customer to pick up without disturbing their plans for the day, etc. We keep working at it. Everyone participates in the brainstorming of new methods, tips, tricks, etc. and we keep making progress day-to-day."
Castro explained that with insurance demands at an all-time high, as well as consolidators growing at a rapid pace, it is vital for independent shops to become as lean as possible.
"M & M has had to rethink how they run their business. The old traditional way of running a collision shop has changed dramatically," said Castro. "It is more important than ever to utilize trusted vendors that can assist with a shop's journey."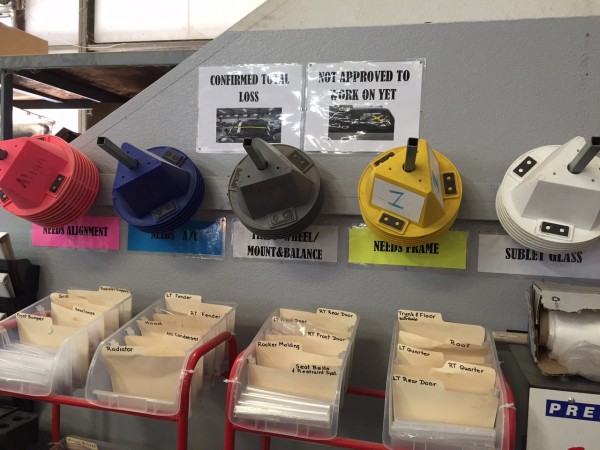 Color-coding helps identify what repairs are needed for each job.
3M Account Representative Armando Munguia has helped train each department on OE recommendations for tracking waste with a new program that the company has developed called Performance Analysis Tool (PAT).
"Utilizing PAT, we were able to measure and control cost, capitalize on potential revenue opportunities, drive productivity, cycle time and CSI improvement, explained Munguia. "We created an Approved Product List (APL) based on 3M SOPs in each department. With the proper training, willingness and ability to make changes, our goal was to increase sales-reduce cost & improve profitability."
Magos offered the following advice to shops looking to begin their lean process:
Inquire where to get the training. Your paint rep should be able to connect you to lean seminars offered all over the country. We were approached by Hillary Castro, our paint rep, regarding attending Eco-Lean I Seminar. We were very glad we did. In fact, we were so excited about the whole concept of "lean" (not just the 5S part), that for the Eco-Lean II we also took with us our Production Manager and our Parts Manager all the way from California to Florida. The investment was well worth the cost.
Put your seat belt on and be ready for a rough ride. But if you concentrate on the PRIZE instead of the PRICE, the rough ride will be more bearable. Tough times don't last, tough people do.
Be patient and persistent. The hardest thing is changing habits. If it's hard to change your own habits, try changing all your team at once. Be very patient. As the saying goes, "A swift sea never made a skillful sailor."
Magos concluded, "I went about this the hardest way. I knew I wouldn't get a buy-in from the techs until they started noticing that there was any benefit for them; the typical 'What's in it for me' mentality. As John Maxwell stated, 'A manager says: 'go,' a leader says: 'let's go.' I led the way by making many changes until there were measurable results, and then they bought into the concept. I've heard of shops doing this in a weekend. I don't see how that would have been possible for us. Maybe just the 5S part, but the habit forming and the total buy-in takes time, patience, focus, a true love for what you're doing and your people and perseverance."
M & M Paint & Body Shop is located at 503 E Main St, El Centro, CA 92243. To learn more about the shop, visit their website at http://mmbodyshop.com/.