Click HERE to download a PDF of this article.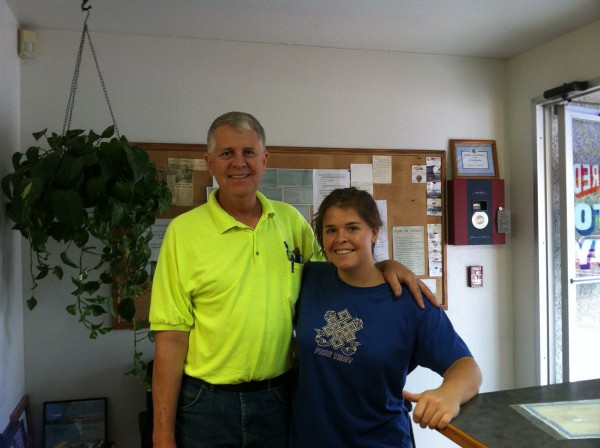 Carl Mueller with his daughter Kayla at his auto body shop. Although not an employee, she washed cars, did errands, and helped out wherever she was needed.
When Autobody News recently spoke to Carl, the former owner of Preferred Auto Body in Prescott, AZ, he and his wife Marsha were preparing for a trip to Dearborn, MI, to speak at the American Human Rights Council's convention and accept an award in honor of Kayla.
Kayla, a 26-year-old humanitarian aid worker, moved to the Turkish-Syrian border in 2012 to work with Syrian refugees. She was abducted in 2013 after leaving a hospital and held captive by the terrorist group Islamic State of Iraq and Syria (ISIS) aka Islamic State in the Levant (ISIL). The Islamic State claimed she was killed by Jordanian bombers. Her family confirmed her death on Feb. 10 of this year, without commenting on the cause.
Kayla grew up in Prescott. An active volunteer, she often helped at women's shelters, local needs clinics and worked with youth. From the time she attended middle school, she volunteered for local Kiwanis Club events and homeless shelters. When she was a senior in high school, she received the 2007 Gold Presidential Volunteer Service Award for her work with groups such as Americorps and Big Brothers Big Sisters.
In college, she set up the student chapter of Amnesty International at Northern Arizona University and organized a rally to raise awareness about genocide in Sudan.
"She always had the heart to help and I always told her she had a gift from God and that she should use it," said her dad Carl. "She was literally tormented by the suffering of mankind."
Considered by family and friends alike as a devoted humanitarian and activist, Kayla had previously worked with refugees overseas including Tibetans in India, Africans in Israel, and Palestinians in the Occupied Territories.
When Kayla returned from the refugee camps in Turkey in May 2013, she told the Prescott Kiwanis Club, "As long as I live I will not let this kind of suffering be normal, something we just accept."
Carl said his daughter was a prolific writer and kept daily journals from the time she was a senior in high school. "One of her quotes was that she's known for quite some time now what her life's work is – using her hands to relieve suffering," said Carl.That was what inspired her parents to name the foundation Kayla's Hands.
"What Marsha and I intend to do now is to move forward and do the things that Kayla couldn't do on her own … without support and money," said Carl. "We're going to try to establish the foundation and fill the endowment so we can do the things that she gave her life to try to get done."
Their plans include traveling throughout the U.S. and abroad to spread the word about Kayla's Hands. Last month, Carl attended a Kiwanis meeting in Farmington, NM, to thank the organization for its tremendous support. Carl is a past president of the Prescott Kiwanis Club. He and Marsha traveled to Madrid, Spain in mid-April to speak at a religious conference.
"Everyone seems to be very interested in learning about Kayla so we're going to try to introduce them to Kayla and thank them for the award," said Carl. "… and promote Kayla's Hands as much as we can so we can do the work that she was so desperate to have done."
Up until recently Carl and Marsha ran Preferred Auto Body in Prescott. They sold it to Cameron Snow and his wife Erika in January 2014. Carl said the new owners have been very supportive of the Mueller family and are doing a great job with the business they ran for so many years.
Carl said his first introduction to the auto body industry came in 1967 during his junior year of high school. He participated in a work program where he attended school for half the day and worked at a Ford dealership in Champaign, IL, for the remainder. He started out sweeping floors and keeping the paint room clean and eventually helped in the shop sanding and painting. He credits much of his learning from his peers. In 1981, he said business was slow due to the poor economy. Carl and the painter in the shop, Tom Gordon, decided to start out on their own and opened Preferred Auto Body. After renting a facility for three years, they purchased property in Prescott and relocated their shop. Tom sold his half of the business to Carl in 1998, which he ran with his wife and six employees until 2014. Now retired, Carl and his wife can devote more time to Kayla's Hands.
"Our foundation is basically going to help suffering people, not just in the United States, but all over the world."
On the website created by her friends (www.forkayla.org) Kayla was quoted as saying, "It's important to stop and realize what we have, why we have it and how privileged we are. And from that place, start caring and get a lot done."
For more information call 520-225-9786, email carlmarshamuellerfamily@gmail.com or visit kaylashands.org