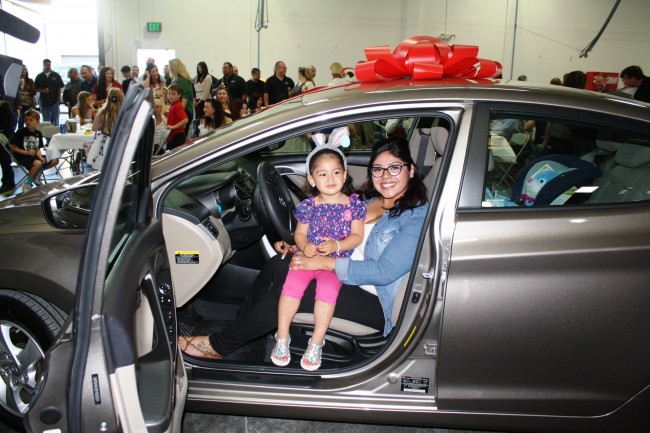 Nicollette Paredes and her daughter Hailey with their 2015 Hyundai Elantra, donated by Mike's Auto Body and presented during the Grand Opening of its new Fremont, CA location.
This giveaway marked the 53rd car that Mike's Auto Body has presented to admirable individuals, families and non-profit organizations since the program's inception 15 years ago. Everything is donated, including the cars, parts, paint, mechanical inspections, tires and one year of insurance. The body and paint technicians at Mike's Auto Body donate their time and talents to make these vehicles the best they can be. Hertz Rent A Car donated the vehicle, a 2015 Hyundai Elantra.
The Mayor of Fremont Bill Harrison, ambassadors from the Fremont Chamber of Commerce and other dignitaries were on hand to participate in the ribbon cutting and celebrate the opening of Mike's Auto Body's 13th location in northern California. There was also music performed by the American High School band as well as complimentary food and beverages, including a churro stand.
After the ribbon cutting, Sal Contreras, the Marketing Director for Mike's Auto Body welcomed the 200 people in attendance. CFO Ragen Ortland made a presentation about the history of Mike's Benevolence program, followed by a welcome from Mayor Harrison and KK Kaneshiro, Chamber Director of Member Services.
Then the big moment arrived when Casey Perkins at Hertz Rent-A-Car presented the Benevolence car to Paredes and her daughter. Paredes shed tears of joy when she saw the car roll onto the shop floor. In addition, Mike's Auto Body donated one year of car insurance, Hertz Rent-A-Car donated a car seat, and all sponsors contributed to gas gift cards and Easter baskets full of candy for Hailey.
Mike's Auto Body went through a stack of application letters to determine the recipient, as it does for all of its Benevolence presentations. The one that really stood out was written by Nicolette Beardsley, Eden Property Manager on behalf of Paredes really stood out.
"In working with Ms. Paredes, I have seen that she is simply a young, single mother trying to give her daughter the best life possible. Ms. Paredes is a great resident and part of our community here at Eden House. Her rent is always on time and her home is clean and well-kept. Before her car was stolen, Ms. Paredes was attending school, but since had to drop out since she does not have transportation. I know that it if she had a working vehicle, she would be able to continue her education, as well as take on more clients at work to provide extra income for her family. The Benevolence Program through Mike's Auto Body is a great opportunity and if awarded to Ms. Paredes, I know it would be benefitting a wonderful and deserving person."
Contreras is happy that the 53rd car went to a Paredes, for several reasons. "I read every letter that is emailed or faxed in for consideration for our Benevolence Program," he said. "When I received Nicollete's letter telling us about her story, I knew this was the type of recipient we wanted. She has the strength and fortitude to continue to try to better her life for her and for her family even though it would have been easier to give up! I gave our Fremont's team a handful of letters to read to select 'their' recipient. I was very happy to hear that our Team unanimously selected Nicollette!"
In September of last year, Mike's Auto Body acquired Central Collision in Fremont, CA, making the 30,000 square foot second-generation body shop its 13th location. With two locations in Concord and Walnut Creek and one in Lafayette, Pittsburg, Antioch, Brentwood, Richmond, Fairfield, Napa, San Ramon and now in Fremont, Mike's Auto Body is well-known for being an outstanding business partner in every city where it serves the public.
In addition to Hertz Rent-A-Car, Antioch Auto Center Hyundai and Finish Master were major sponsors. Other automotive companies helped in the refurbishment of the vehicle are Ann's Auto Master & Max Auto Lab, Guaranteed Muffler & Brake, Star Autopia Car Wash, Wheel Repair Solutions, 3M Automotive, DGDG, Allied Auto Parts, D&A Bumpers, Central Towing and LKQ Corp.