Click HERE to download a PDF of this article.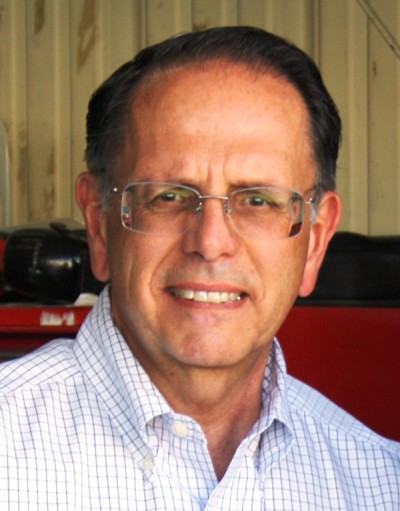 David Mello, the owner of Anderson Behel in Santa Clara, CA will be celebrating 36 years in the collision industry next month.
Q: How did you get in this industry?
A: My father was a dairy farmer and he ended up leaving the farm and managing a creamery. I liked cars more than I liked cows, so in high school I went to work for a service station where I could mess with cars. While I was attending junior college, I got a job as a parts guy at the Oldsmobile dealership in Santa Cruz, CA and I was making $600 a week, which was very good money for a kid out of school. I thought I had it made. I became the parts manager and eventually landed a job at a body shop. I worked there for 10 years and then in 1989, I purchased my own shop--Anderson Behel in Santa Clara, CA.
Q: What were some of the early obstacles?
A: It was a big leap buying a shop, but I thought I had all the answers. But then during that first year (after all the money ran out) I really learned a lot of things on the job, such as customer service; hiring and firing; cash flow--I mean, the upper level stuff. I had taken accounting at junior college, but I was shocked at what I didn't know. I was spending money on labor and parts and it just chewed up that money. It was definitely a struggle to make money and also have cash on hand and that was probably the biggest obstacle during those first few years.
Q: How have you been able to survive during tough economic times?
A: I've always maintained a steady stream of dealership referrals, so my business model consists of dealership referrals as well as insurance company referrals and a healthy amount of repeat customer business. Dealership referrals are great because they're late model cars and they're nice to fix and people care about them. It's very hard to make the kind of margins that people feel they're entitled to or that they made in the Golden Age (meaning prior to 1990). So, I want to have a mixture of business, but I do agree with a comment that a friend of mine said recently. If I didn't have them (the DRPs) I'd have less than half the business I have right now.
Q: What would you tell somebody new coming into this industry?
A: Number one, I'd tell them that the pressure to contain prices from the insurance industry is to be expected. The medical industry expects it of them and I expect it of them. What's tough is that many of our colleagues are less than informed about charging for what they do and what must be done. So they readily accept the insurance company's price pressure in many cases. I mean, if you've got a $10 job and they offer you a dollar and you accept it and think that's just great and then you go out and try to find a way to fix the car and make a buck, you're falling right into this trap. Because now you've fixed it to the price point rather than back to OEM standards. I would say that a number of shops are willing to just accept what they get from the insurance industry. Some DRPs devise these artificial price points obviously to save money and not because the car was crashed in a certain way. They're trying to apply cost-saving statistics to the car repair rather than what it really takes for a safe repair in these cases. I know I can't thrive or survive without getting that business, but at the same time I believe my people are well-equipped, well-trained, certified and we do guarantee our work and we do seek to make our customers really happy. I think making customers happy, having a well-trained, qualified staff and having all the proper equipment needs to be our #1 priority. And that's why we're pursuing all of the manufacturers' certifications and doing everything we can to provide the best service across the board. And number two, I would tell them to always do what is best for the consumer.
Q: So, you believe that certifications affect your bottom line? Do customers bring you cars because of the certifications?
A: How often does somebody come in and say 'Hey I brought my car to you because I saw that you're certified to work on it? It sure doesn't happen often enough! It does happen with our high-end OEM certifications. I think what it does, is when somebody is referred here by either a dealer or another customer or an insurance company, it gives some assurance to the customer and that's good. When they come in and they have a Honda and they see a Honda certification sign I think that gives them a peace of mind that may not be verbalized. They may not say 'Oh you're Honda certified' but they're thinking it. I remember years ago people would come in and they would be driving a Toyota or a Ford or whatever and they would say 'I see all these Porsches here, so they must be a good shop.'
Q: Are things better now than when you entered this industry 36 years ago?
A: Yes, I do believe that overall the relationship between the collision repair industry and the insurance companies has improved since I began. That reality is still there for some people. There are some companies who say that being with certain DRPs is like selling your soul to the devil. And so those of us that have sold our soul to the devil, of course we're going to say that it's better because we can't criticize the insurance companies. So, from my perspective, that has improved and made things easier for us. Now what has kept me awake at night is the infiltration and intrusion of the consolidators into our area. They threaten my status quo. I fall right into their slot: Baby Boomers Ready to Get Out. So, I am obviously very concerned about that.
Q: Do you still encounter steering?
A: It's still alive and well. Even though it's illegal in California, steering is on steroids. We used to joke when I was a state officer for the CAA and we were lobbying at the Capitol for Jackie Speer's anti-steering bill. Well, when the car comes to me to be repaired then it's called a referral, we joked. But when it goes to someone else, it's called steering so I freely admit to playing both sides of this, but my ideology is that it ought to be a free market and that customers should be able to go wherever they want to go.
Q: What is the value of organizations such as the California Autobody Association (CAA)?
A: The big chains (MSOs and the consolidators) feel they don't need associations like the CAA to work with or to better the Industry. They kind of create their own weather. They're large enough to create their own environment and as individual shops we can't compete with that without working collectively. I've been involved with the organization for 26 years now. I joined my local chapter's board (Santa Clara chapter) in 1992 and I've been on the board ever since then. I served as President in 1997 and then in 2007 I became CAA State President, which means I served for six years on the Executive Committee. I have also been the Treasurer for our chapter probably for the last 15 years. So, I've seen firsthand how the CAA can make a difference, as long as shops are willing to step in to help to make it happen.