Hack's Auto Body has won the Reader's Choice Award for Best Place for Service/Repairs in Pacifica, CA for almost 20 years in a row.
Hack's Auto Body was first owned by Haskell "Hack" Hanshew in 1959. In 1967, Hanshew sold Hack's to Larry Easterby and Frank Kirby who incorporated the shop in the early 70s. It was then bought by Jack Malman in 1995 after he had worked there for six years. He and his business partner Dan Rice are the sixth set of owners; none of which have been families.
Despite their small team of seven, Malman said, "It is not difficult for us to do any collision repair; workload has not been a problem. We get cars in and get them out in a very timely fashion. All our technicians are I-CAR certified in all the latest technologies. In order to be contracted with many of our direct repair insurance companies we need to have an I-CAR Gold Class rating, which we do & many of our techs are I-CAR Platinum."
Ever since Hack's opened its doors, customers have relied on the shop to free their vehicles of rust, dents, and/or a disrupted paint job, whether it's the result of an accident or not. Major insurance companies offer their clientele a written guarantee against defects in quality and workmanship for as long as they own their vehicle if they choose to go to Hack's for their repairs, Malman told Autobody News. He added that it wasn't easy getting those contracts, but it has been well worth it.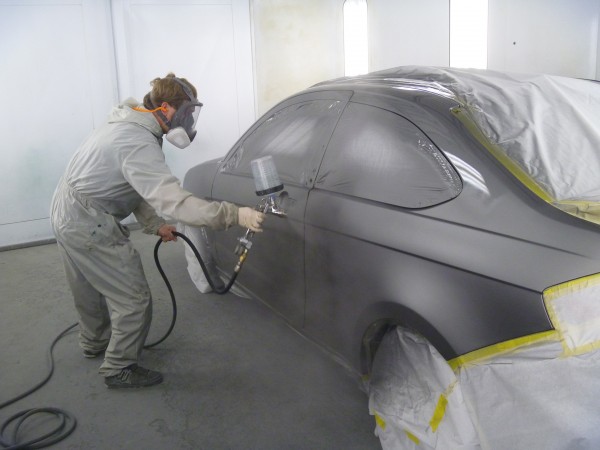 A Hack's Auto Body technician painting a customer's vehicle with state-of-the-art equipment.
"We work with any and all insurance companies, Hack's always has," Malman said. "We are a direct repair facility for a few different insurance companies, CSAA IE (AAA insurance) Farmers Insurance, and 21st Century just to name a few."
According to Malman, Hack's Auto Body only uses state-of-the-art equipment, including an AFC downdraft heated paint booth, Whitney wizard frame rack system, and a Shark electronic computerized measurement system.
"We also use PPG Enviro water base paint system with water base paint dryers," he added. "We were one of the first to have switched over to a water base paint system in our area."
Hack's serves the community even further by sponsoring two Pacifica American Little League teams and a pony league team.