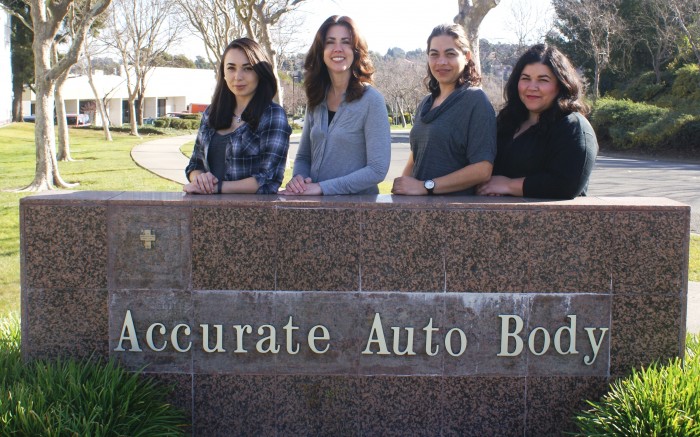 From left to right, Junior Estimator Rosi Esparza, Owner Tiffany Silva, Maintenance and Parts Department Coordinator Maribel Vergil and HR Manager Grace Baltazar make up nearly one-third of the crew at Accurate Auto Body in Richmond, CA.
As a business owner, Silva wants to empower other women whenever she can. And that's why she hired three women at Accurate Auto Body--one working in HR, another as a junior estimator and another as a maintenance and parts department coordinator.
"I want to see more women working in shops, because they can do the work," she said. "There is a good old boy network here in this industry, but it has changed for the better since when I started. We have a ton of really talented women in this industry in this area, including Gigi Walker, Kathy Mello, Lisa Daves and Trish Pickens, just to name a few, so why not more?"
Tiffany's father, Ed, entered the collision industry nearly 30 years ago after being a letter carrier for many years. Today, he still works at the shop alongside his daughter.
"One day while he was out on his route, my dad saw a guy fixing a car in his garage and he thought, 'I can do this.' He started buying cars, fixing their dents and painting them and then re-selling them. I remember that our garage would change colors based on the latest car my father painted. For a while, it was red and then later it would be blue."
While in school, Silva worked part-time for local insurance companies and then after marrying her high school sweetheart (Dan, who works at the shop) she jumped into the family business with both feet.
"I started out doing the admin, phones and clerical work and pretty soon I took over the front office. One of my main roles was re-writing my dad's estimates and making sure they were correct. Back then, of course, there were no computers and everything had to be done by hand."
The business has grown considerably over the years, to say the least, especially after moving into its current location more than two years ago.
"Our original shop was small, around 3,000 square feet with only three employees," Silva said. "Today, we have 15 people working here and we're fixing approximately 100 cars monthly. We're doing it in 18,000 square feet and have five great DRPs that we're very happy with. There are six car dealerships right down the street and we've established working relationships with all of them, which is huge."
While many second generation business owners don't seem to share the same passion that their parents possess, Silva is the complete opposite.
"Early on, my dad taught me a lot of things that later have proven to be very important," she explained. "We have high standards and people know that. In many cases, we get cars that other shops have already worked on and we have to re-work them. If we get a car in here and we don't feel as though we're the right shop to work on it, we will send it to another shop that works on those types of cars. Recently, we had a newer Mercedes-Benz in here, so we sent it to a shop in Oakland that works almost exclusively on them. We want to do the job right and if someone else is better at it, we're not too proud to admit it. It's all about the customer and the finished product."
As the President of the EB-CAA for her fourth year, Silva is proud to serve but also frustrated that too few body shops step up and get involved at some level; any level. "Shop owners say the CAA does not do enough for them and they leave it at that," she said. "But, by getting in there, you can work to make the changes you want to make. The organization is a forum and provides a platform for making change and bettering our industry, but more of us have to get onboard if we want it to happen."
Silva supports the Contra Costa College Collision Repair Program and that's why she is a member of the school's advisory panel. "With a real shortage of qualified, well-trained techs out there, we need to help the tech schools in any way we can," Silva said. "This industry will thrive in the future, but we need to get the right people in the right jobs to achieve that, so that's why we play a role by working with Peter Lock, the program's director."
Is there any chance that eventually Accurate Auto Body will become a third-generation company? "Not likely," Silva said. "My daughter is 16 and she wants to become an illustrator and my son is 13 and if he does not make it as a professional baseball player, he wants to be an engineer. They want to pursue their own dreams and collision repair is not a part of either of their plans, which is just fine."