Click HERE to download a PDF of this article.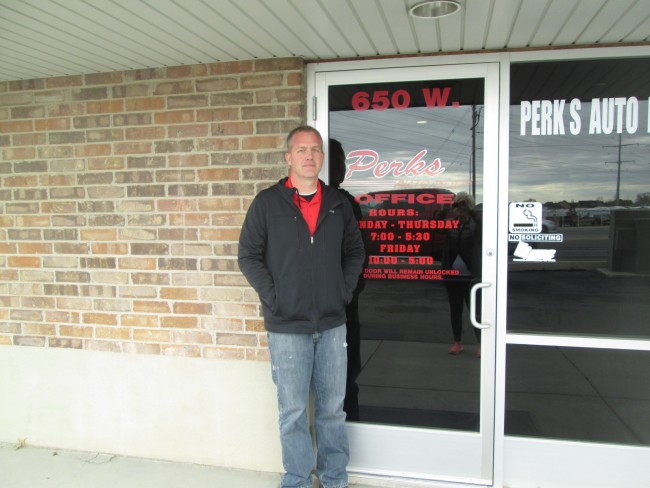 Chris Perkins is the third-generation owner of Perk's Auto Body in Clearfield, Utah and also the treasurer of the Utah Auto Body Association (UABA).
Perkins fondly described the early days of the business.
"Initially, the shop did auto body, mechanical work and was also a snowmobile dealership, all in the same building," he said. "And then in 1973 my grandfather, Dale Perkins, moved the shop to our current location and it became just an auto body shop at that point. In 1988, my father, Chad Perkins, bought my grandfather out, because my grandpa had some health issues. He was very sensitive to the new paints and so he had to get out of it. They tried to make the paint healthier and it made him sick, so he quit right there and became an insurance adjustor, which he did for a short time."
Perkins worked by his father's side to learn the collision business. He started out sweeping floors, the same way most second and third generations do it.
"I pretty much grew up working in the business, starting really at age 12 by doing whatever he told me what to do and just hanging out here with my dad," Perkins said. "At the time, he worked nights and put in a lot of hours, so I'd come up after school and spend time with him. I gravitated more to the painting side to start with and through high school I was a prepper. Then after I got married, I started painting cars for about 10 years before moving into the office. In 2005, we built another building and basically doubled our size so right now we're about 9,000 square feet combined and we fix about 80 cars monthly."
By diversifying and doing more than just collision repair, Perk's Auto Body is flourishing in a tough market.
"We do a lot of accessories for a Ford dealership here in town, installing flares and scoops and smaller ones," Perkins said. "It has become a nice little niche for us, because we have a ton of trucks around here and people aren't afraid to spend their money on them. The Ford dealership has become a great partner for us and we couldn't be happier about it."
The shop also does restorations and custom work.
"We get a few in here every year, mostly muscle cars. At the beginning, we were doing mostly custom work and restorations, but now collision repair makes up the majority of our work. Right now we're doing a '57 Chevy and we just did a 1970 AMC Rebel Machine. We do the body work and paint only and someone else does the upholstery and the mechanical stuff. Restorations can be profitable, as long as you bid them right and you let the customer know it's a sideline and it may take a while to get it done. As long as they're comfortable with that, it's a really good way to keep our guys busy full-time even if we have a slow spell for a couple of days."
Perkins has been able to see the industry change first hand, especially with the explosion of new technology.
"I like the changes and the fact that we have to keep learning," he explained. "I think it makes our job more challenging and more rewarding to learn these new skills and to be able to use this new equipment and to fix these different cars. I think the challenge is to keep up with the technology and the training so that when something new rolls into your shop you know how to fix it."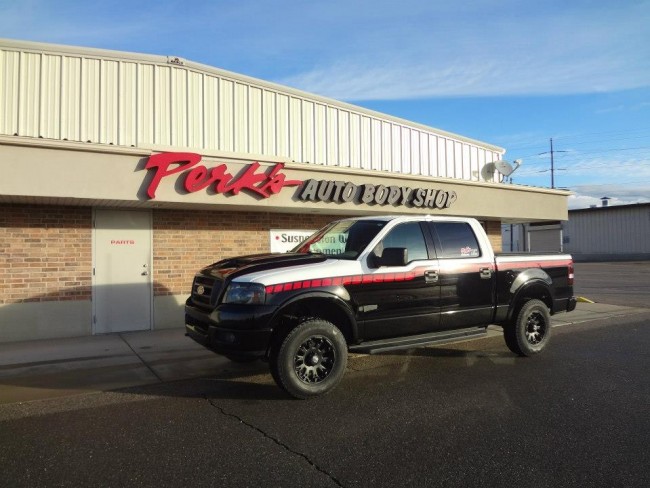 Perk's Auto Body fixes approximately 80 cars monthly and has a great working relationship with a local Ford dealership that brings him a lot of work, installing accessories primarily.
Has Perkins joined the Rush to Aluminum?
"Yes, definitely. I just saw it as an opportunity to maybe differentiate us from other shops in our area by becoming board certified. I think aluminum is the only realistic way for production cars to reduce their weight and hit those CAFÉ numbers. We haven't had a car in here yet but the Ford dealer that we work with just got a few in now. And it was a big investment to get the Ford aluminum certification and buy all the equipment. I figure we invested right around $85,000 by the time it was all said and done. I see this as a five to seven year return on investment and as a way to build our business outside of just the DRP model. So for right now there's only the F150 this year, but I believe in 2017 the Silverado is going to be aluminum and I just read an article yesterday that Toyota is going to start to use aluminum sheet metal. So I just wanted to get in on the ground floor and get to the point where when those trucks started really rolling in here we already have the experience and we're already set up to fix them."
Perkins has seen the shop's relationships with insurance companies change over the years.
"Ten years ago, when I first started working in the office, we had seven DRPs and about 80% of our work was DRP work at that time," Perkins said. "Then my father and I just decided that we didn't like being told how to fix cars. We felt like we were being forced to fix cars differently than we wanted to and we weren't fixing them how the OEMs recommended, so we've gradually stepped away from the DRPs . We only have two now and I'm down to about 25% of our gross sales coming from DRPs. We picked up some fleet work to make up the difference on various fleets and government contracts and it's worked out well."
Certifications have become more important now, according to Perkins, and they will become even bigger.
"I think you're going to see the OEMs become a lot more involved in the repair process and I think they're going to make their procedures more available. As a result, we're going to see more body shops becoming more liable for the safety of those vehicles. And when a body shop starts being liable, they're going to be less willing to give these insurance companies concessions, because now the body shop is taking all the risk."