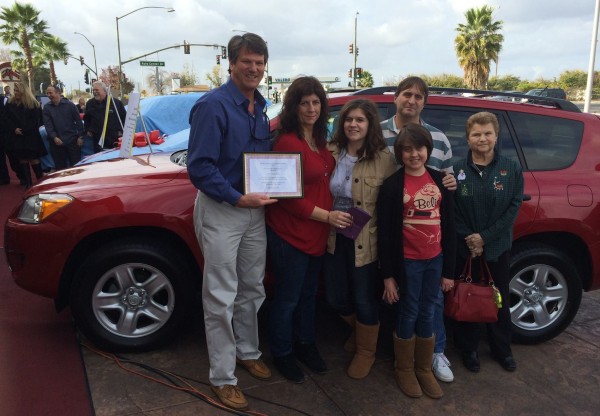 Roger Hancock of CSAA Insurance (far left) presents a 2010 Toyota Rav 4 to Kathy Groebner and her family as part of Mike's Auto Body's 2014 Benevolence.
Mike's Auto Body gave away a total of six cars in 2014, after presenting a staff sergeant from Travis Air Force Base and his family with a Hyundai Sonata as part of their Benevolence program at its Fairfield, CA location on Veteran's Day.
Each year the collision repair industry as a whole comes across cars that are "written off" by either their drivers or insurance companies. Often times these are older vehicles that just need some mechanical and body work to get back on the road. "These cars are completely safe and all they need is a little TLC," Sal Contreras, the marketing director at Mike's Auto Body explained. "We believe that these cars are still useable and that's why we fix them up to where they almost look new, in many cases. There are a lot of people out there without basic transportation, so we decided to do something about it."
Mike's Auto Body's Benevolence is a community relations program designed to generate good will at the local level, while improving and promoting the image of the collision repair industry. The industry's mission is to present refurbished "new" used cars to deserving individuals or organizations during the holiday season.
Over the last 14 years, Mike's Auto Body has presented a total of 46 cars to deserving families and non-profit organizations. Everything is donated, including the cars, parts, paint, mechanical inspections, tires, and one year of insurance. The company's body and paint technicians donate their time and talents.
CSAA Insurance Group, Mercury Insurance Group, State Farm Insurance, Safeco Insurance Group, Enterprise Rent-A-Car and GEICO Insurance participated this year by donating a "written off" vehicle, to be given away to a deserving family. Mike Rose is proud of his company's Benevolence Program and all of the people they've helped over the years by giving them the gift of transportation.
"We feel very fortunate to be involved with such a wonderful program and are very excited to be able to give back to the community that has supported us for the past 42 years," Rose said. "Repairing the vehicles is the easy part, having to decide on a recipient is the part that's hard. After receiving hundreds of applications over the years and reading their heart breaking stories, we only wish that we could do more. But hopefully with the increased publicity of our Benevolence, other shops will adopt a similar program of their own."
At the presentation in Antioch, the Mayor of Concord Tim Grayson opened the presentation by saying a few words of good wishes and welcomed everyone on a rainy day. The Contra Costa Fire Fighters Local 1230 was also on hand to generously donate brand new bicycles and new helmets for all the children and grandchildren of the recipients.