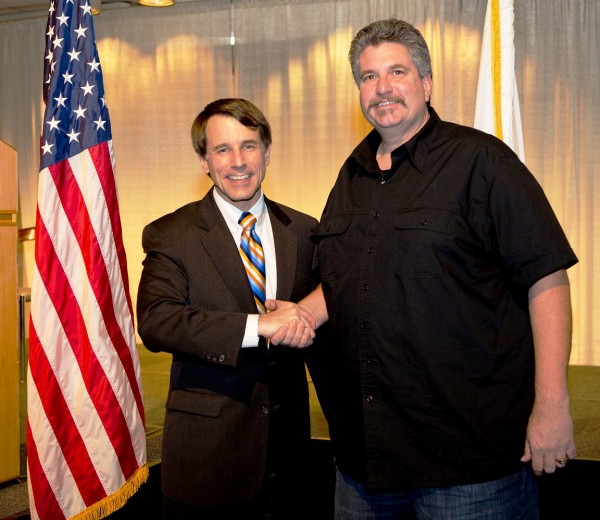 Jones (left) and Jim Boyle, owner of Regal Collision in Vallejo, CA posed for a photo during a reception following the inauguration.
With his wife Kim, daughter Isabelle and son William by his side, Jones was sworn-in by Sacramento County Superior Court Judge Emily Vasquez. One of the day's highlights was when Isabelle Jones sang "Children Will Listen" from the musical "Into the Woods" for her father.
Jones was beaming from ear-to-ear as he addressed the assemblage.
"I am grateful to the voters of California for electing me to serve a second term as Insurance Commissioner," he said immediately after being sworn-in. "As was my first term, my second term will be one of action on behalf of consumers."
He also took the opportunity to issue emergency regulations requiring that health insurers have sufficient medical providers in order to offer patients timely access to care.
Jack Molodanof, the lobbyist for the California Autobody Association (CAA) was on hand to represent the organization.
"Over the last four years, Dave Jones has been a very active and energetic Insurance Commissioner for California, using the Department's powers to create new rules to help consumers, including recently enacted auto body regulations that strengthen consumer protections and add new insurer accountability measures for auto body repair," Molodanof said. "We expect that Jones will work even harder in his second term and continue to protect and secure crucial victories for consumers."
Jim Boyle, the owner of Regal Collision in Vallejo, CA traveled to the State Capitol to pay tribute to Jones.
"I've been in the collision industry since 1980 and Dave Jones is by far the best commissioner we've ever had. No question about that. He listens to our concerns and then he acts on them, which is exceptional. I have never been to an inauguration before, so this was another great moment to check off my bucket list."
The California Department of Insurance, established in 1868, is the largest consumer protection agency in California, regulating the $123 billion insurance marketplace. In 2013 the California Department of Insurance received more than 170,000 calls from consumers and helped recover over $63 million in claims and premiums.