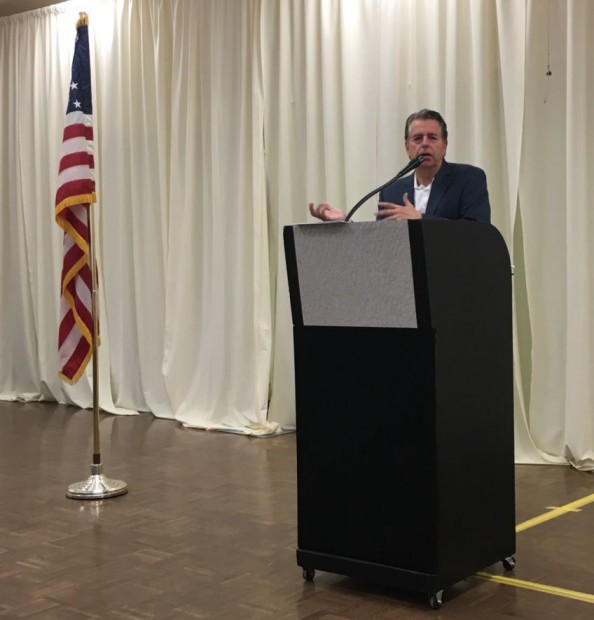 CAA lobbyist Jack Molodanof flew down from Sacramento to Orange County to educate members on a bill that was introduced in early April.
The California Autobody Association (CAA) Orange County Chapter held an "emergency" meeting on April 22 so CAA lobbyist Jack Molodanof could inform members of a potentially problematic bill for shops and consumers.
The meeting was held at The Phoenix Club in Anaheim.
Bill AB-1679 was introduced on April 6, 2017 and is moving quickly through the legislature, according to Molodanof. It proposes a reformed set of standards for insurance companies to adhere to when conducting labor rate surveys.
"These new standards have been watered down," he said. "We think this bill allows insurance companies to conduct surveys that are going to result in unfair, unreasonable and unreliable rates, and in turn cost the consumer."
The CAA lobbyist went into detail about how the current legislation came to be, and how bill AB-1679 intends to change it. He began with the importance of transparency.
"In 2000, Senator Jackie Speier passed a bill including a provision stating that if an insurance company conducts a labor rate survey, they have to provide a copy to the Department of Insurance," Molodanof explained. "Before then, insurance companies could come to your shop and say they conducted a survey and that the rates needed to be adjusted downward, and when you asked to see how they came up with those numbers, they would say the survey was confidential."
Although the new regulation is currently in affect (as of March 2017), AB-1679 wants to "set the law back 17 years," according to Molodanof.
"The insurance companies want to turn the survey information into trade secrets again, so shops and consumers can't see how the rates were determined without a subpoena," he explained. "It's very troubling."
As more surveys became transparent in the early 2000s, Molodanof said the public realized how much the lack of standards impacted labor rate survey accuracy. Thereafter, AB-1200 passed to prevent insurance companies from "steering" customers to their direct repair programs.
"Insurers can promote their DRPs, but they cannot disparage the shop a customer chose or mislead customers from a shop they chose," he explained.
Molodanof shared a story about an insurer who told a customer that their shop of choice wouldn't provide a warranty for repairs. The customer then went and told the shop that the insurer said that. Turns out they had no basis for making that claim.
The CAA lobbyist stressed again, "We have no problem with insurers promoting their DRPs; in fact around 75-80 percent of our members' shops have at least one direct repair program. But we had to draw a fine line between promoting and disparaging."
Bill AB-1679 wants to repeal the current "steering" protections.
"Insurance companies will be able to make disparaging comments about auto body if this passes," Molodanof stressed.
When California Insurance Commissioner Dave Jones was elected in 2011, he sat down with consumer groups, new car dealers, auto body shops and insurance companies to figure out what other standards needed to be put in place. One of the first challenges was figuring out how to determine the geographical area for labor rate surveys.
Molodanof said after five years and thousands of hours of negotiating, researching, and speaking with professionals, including economics professors from Sacramento State University, they decided on geocoding.
"It captures the local market and neighborhood community," he explained. "The program uses a software application, so if you put in the address of a shop in a certain area- longitude and latitude- it can tell you the six [number varies in urban areas] closest shops. It's very accurate."