"I always loved taking things apart and putting them back together, like my mother's kitchen appliances," he joked.

Lehmkuhl said the automotive industry has given him the opportunity to put his passions into practice.
"As I grew up, I found a satisfaction not only in fixing something that was broken, but also taking something that was old and restoring it to its original beauty and function," he explained.
After graduating from high school, the San Luis Obispo native attended the University of Nebraska Lincoln. But after a year, he said he didn't feel comfortable being so far away.

"Cuesta College was the natural choice when I returned because it offered a combination of high quality education and affordability that was unbeatable," he said.
Lehmkuhl fine-tuned his craft at the California community college from 2009 to 2011.
"I loved all of my automotive classes," he said. "They offered me opportunities to learn new technology and systems on cars, while also giving me a chance to practice the hands-on side of things."
Lehmkuhl also gained experience while competing at multiple SkillsUSA and WorldSkills competitions.
"I first learned about SkillsUSA when I was in high school," he said. "My father is an advisor for the chapter and he was training students every year for the Automotive Technology competition."
After hearing his father talk about it and watching students compete for years, Lehmkuhl finally got his chance.

"I earned a bronze medal at the state competition my first year," he said.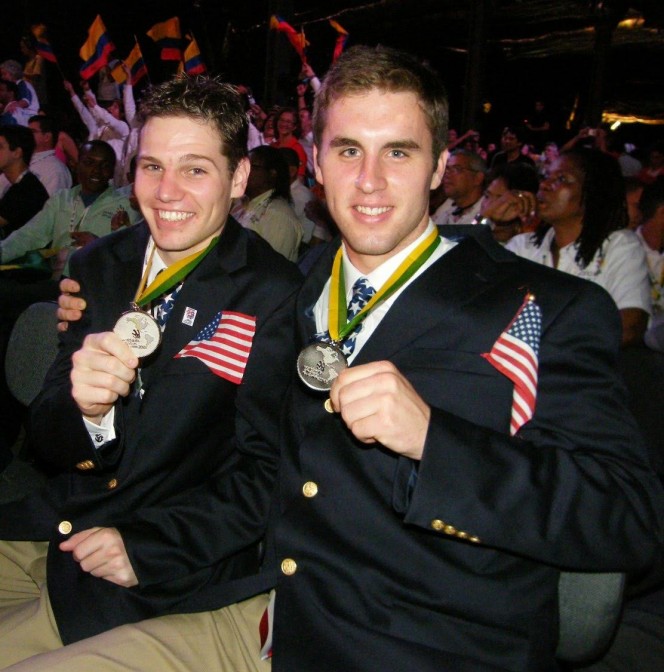 Fellow competitor for Team USA, Chase Trayal (left), and Daniel Lehmkuhl pose with the metals they earned at WorldSkills Americas in 2010.
Lehmkuhl said he competed in SkillsUSA on a local and state level four times and on a national level three times. Twice he continued on to the international WorldSkills competition.

"One of my favorite things about it is getting to compete against the highest skilled competitors from across the country and even the world," he said. "Not only that, but also learning about their backgrounds, their stories, and their lives at home was a fantastic cultural experience."
"I have friendships that I have made all across the world as a result of some of these competitions," Lehmkuhl added.
Daniel Lehmkuhl greets students in Brazil at the WorldSkills Americas in 2010.
When comparing experiences at the WorldSkills in Sao Paulo, Brazil in 2010 and London, England in 2011, he said he found the former to be more challenging.
"The competition in Brazil was conducted entirely in Portuguese, and the amount of time that we had to prepare was extremely limited," Lehmkuhl explained. "All of the vehicles that were used in the competition did not exist in the United States."
He said he had to use an interpreter and a Portuguese to English dictionary to decipher the tasks, work instructions, and technical materials that were provided.
"The weather in Brazil was hot and humid as well, which added an additional difficulty to the competition," Lehmkuhl recalled.

"There are six competition stages that take place over the course of three days, and each stage was three hours long."
Despite the challenges, he earned a silver medal.
"The event in London was much larger and more organized," Lehmkuhl explained. "There were over 40 competitors from all over the world, competing at a level that I had never seen before."
According to the California native, the London WorldSkills had seven stages that were three hours long, completed over a course of four days.
"The sheer size of the WorldSkills Event is mind-boggling, and it was a true delight to participate in," he said. "The competition was fast paced and fierce."
Lehmkuhl said he placed 5th in London. He was judged on the following tasks, which were similar for both WorldSkills events:
Engine Mechanical- Disassembly, inspection, perform precision measurements, repair problems, and reassemble an entire engine by hand, no power tools allowed
Diesel Engine Performance- Same as above, but on a diesel engine vehicle
Chassis Alignment and Steering- Perform a computerized 4-Wheel alignment inspection and adjustments and perform replacement of damaged components to repair alignment issues
Body Electrical- Perform diagnosis, testing, repair, and precision measurement of a vehicle's body electrical systems and repair approximately 10 hidden faults
Brakes- Perform diagnosis, repair, and component replacement as well as precision measurements on a vehicles braking system and repair approximately six hidden faults
Manual Transmission- Disassemble, inspect, perform precision measurements, component replacement, and reassemble a manual transmission gearbox, all by hand
"Cuesta College played a big role in my SkillsUSA preparation," said Lehmkuhl. "They not only provided automotive classes, which taught me skills that I used during competitions, but they also facilitated training and practices for me to prepare for the competitions both nationally and internationally."
He now works as a Parts and Service Director at Alfano Motor in San Luis Obispo.
Lehmkuhl stressed the importance of community college, and advised students who are interested in attending one to "not let pressure from friends or family get them down."
"I think there is an unfair expectation put on young people in our country to rush into a four year college before they know what they want to do with their lives," he explained. "Community college programs offer the opportunity to gain valuable education, and try out different real-life skilled trades without spending a fortune."
To learn more about Cuesta College, visit www.cuesta.edu.