Last December, Mike's Auto Body presented five vehicles to five deserving families at their new ADAC Antioch location, making it their third Benevolence Presentation in 2016, which brought their grand total to 66 cars over 16 years.

The afternoon's presentation opened with an invocation from Sal Contreras followed by a flag presentation by the Mt. Diablo JROTC Color Guard. The national anthem was then sung by 2015 Benevolence Program Recipient April Dingle, followed by "America the Beautiful" presented by the Prince Charles Pipe Band consisting of Steven McElhaney and Kristopher Muse.
Everything is donated, including the cars, parts, paint, mechanical inspections, tires, and one year of insurance. The body and paint technicians at Mike's Auto Body donate their time and talents to make these cars look amazing. CSAA Insurance Group, Farmers Insurance, Safeco Insurance, State Farm Insurance and Enterprise Rent A Car participated in the company's Holiday Benevolence Program this year.
"We feel very fortunate to be involved with such a wonderful program and are very excited to be able to give back to the community that has supported us for the past 44 years," company owner Mike Rose said. "Being in this business for that long, repairing the vehicles is the easy part; having to decide on a recipient is the part that's hard. After receiving hundreds of applications over the years and reading the heartbreaking stories, we only wish that we could do more. But hopefully with increased publicity of our Benevolence Program, other shops will adopt a similar program of their own."
Again this year, the Contra Costa Fire Fighters Local 1230, Fire Station 81, generously donated brand new bicycles for all of the children and grandchildren of the recipients. "They brought their fire trucks and fire engines and had them parked in our parking lot during the presentation," Program Coordinator Sal Contreras said. "When they presented the bikes to the children, it was hard to determine who was the most excited, the recipients receiving the car or the children receiving the bikes! The Christmas Spirit was in the air!"
Recipients for this year's Holiday Benevolence Program included: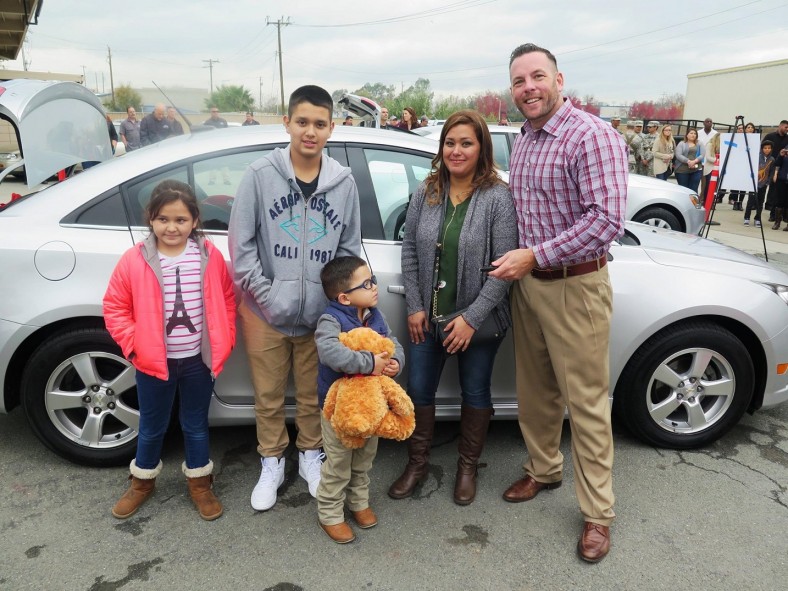 Connie Mendoza and her three children.

· Connie Mendoza and her three children received a 2012 Chevy Cruze that Farmers Insurance donated, and the family was sponsored by the Hemophilia Foundation of Northern California. Mendoza's youngest son has severe Hemophilia and this vehicle will help the family to get him to his doctor's appointments.

· Zanetta Fredericks and her daughter with one 9-month old daughter received a 2011 Honda Civic LX that State Farm Insurance donated and sponsored by St. Vincent de Paul.
· The Community Action North Bay non-profit organization received a 2015 Dodge Journey from Enterprise Rent A Car. This organization provides shared transportation to Veterans and affordable housing and supportive services to veterans through various programs.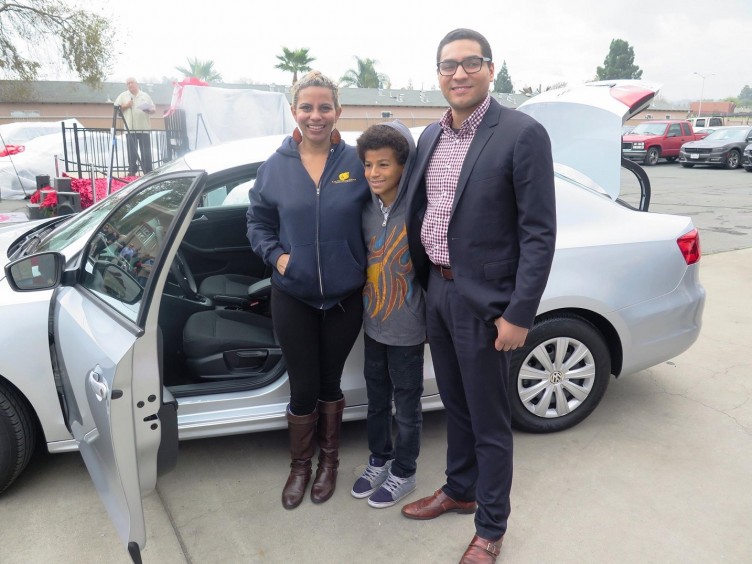 TeJae Dunnivant and her son.

· Veteran TeJae Dunnivant and her son received a 2014 VW Jetta from CSAA Insurance that was sponsored by the Blue Star Moms. Dunnivart works at Cal Vet at the University of California, Berkeley, so her new vehicle will make life easier for herself and her son.
Rose Duarte and her grandson.
· Rose Duarte and her grandson received a 2010 Honda Civic that was donated by Safeco Insurance and sponsored by STAND For Families Free of Violence.
Each year, the collision repair industry as a whole comes across cars that are "written off" by either the owner or the insurance company. Often times these are older vehicles that just need some mechanical and body work to get them back on the road and are perfectly safe to drive. Because we believe these cars are going to waste when there are people who really need them, we decided to do something about it.
Mike's Auto Body's Benevolence Program is a community relations program designed to generate goodwill at the local level while improving and promoting the image of the collision repair industry whose mission is to present refurbished "new" used cars to deserving individuals or organizations during the holiday season.