The event was attended by local residents and leaders as Service King of Milpitas officially commemorated the completion of its 70,000 square foot "mega shop."
Wesley McAlester, Service King Market vice president for Northern California, was happy to unveil this facility officially. The shop opened for business in late August before the company publicly celebrated the grand opening in early November. Today, it boasts the capacity to repair more than 600 vehicles per month, which would make it the largest producer in the Bay Area, hands down.
"The entire Service King family is proud of this repair center, and our grand opening was a special celebration as we took our first step in serving the entire Milpitas community with superior collision repair service," McAlester said. "We look forward to growing alongside our new neighbors now and well into the future."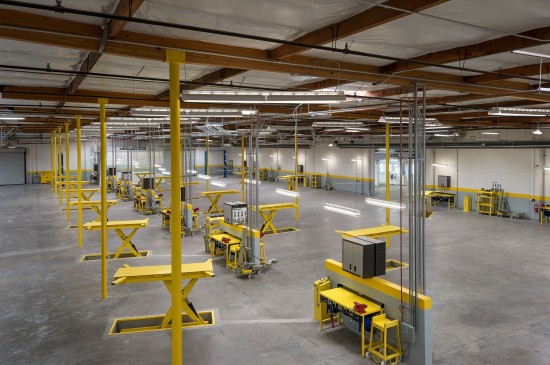 Designed to repair more than 600 vehicles monthly, this new location has already attracted a wide range of work from Milpitas and the rest of Silicon Valley.
This mammoth repair center is not only one of the largest of its kind in the state, but the City of Milpitas recently recognized Service King with its annual Beautification Award. Inside, the facility features an array of first-class amenities including an upscale waiting area, water features, and an open concept modern design. Meanwhile, Service King teammates are treated to a best-in-class workplace, including an oversized break room featuring stainless steel appliances, a luxurious locker room and the industry's cutting-edge repair equipment.
With a live band and tours of the new facility, Service King pulled out all the stops to make the grand opening a memorable event, McAlester said. "This was undoubtedly the most elaborate grand opening that we've ever done. The Mayor of Milpitas, Jose Esteves, was here and we received amazing feedback from local leaders and members of the community as well as many of our insurance partners and vendors who attended."
By opening in August, Service King was able to iron out all of the kinks before hosting its grand opening three months later. "Now that we have been open for a short time, things are going really well and we anticipate that this location will be carrying its own weight within a short time," McAlester said. "The size of our crew right now in Milpitas is appropriate for the amount of work we're currently doing, so we're going to build our team as the demand grows. But we are finding out that the demand is growing quickly, which of course, is a great thing."
With two Service King shops in San Jose and others in Santa Clara, Fremont and Mountain View, the company is blanketing the Bay Area, because it is a growing area and the home of many high-tech companies, for example. "Santa Clara is one of our top producers right now and I predict that Milpitas will be able to surpass their numbers, but it will take some time," McAlester said. "We do anticipate that our Milpitas location will be the best location we have in this market. It may take a couple of years for the location to mature and reach its numbers, but we're expecting big things for sure."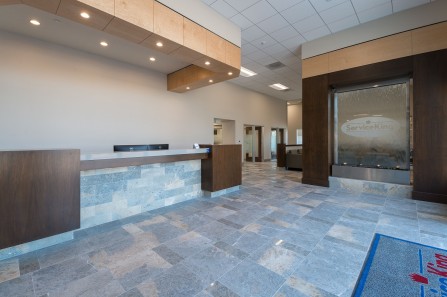 With an impressive reception area, Service King customers in Milpitas will relax in comfort and style.
Northern California has been very good to Service King and McAlester hopes that it will continue in Milpitas, a city of approximately 67,000 people with a median income of roughly $85,000. After working for a long time to get its Milpitas location in operation, the company is happy to be up and running at last. "We had Milpitas on our radar for quite some time," McAlester said. "But getting things put together, including permits and all of the other things that have to happen before opening a shop require time. That is why it's so satisfying to see this great shop and the incredible response we're getting from everyone."
Service King traces its roots back to Dallas, TX and founder Eddie Lennox, who opened the very first Service King in 1976, and today, Service King operates 305 locations in 23 states across the U.S.