Just ask the 2002 LA Lakers, the last pro franchise to achieve it. To be at the highest level for three straight years is not easy, but the College of Alameda's automotive tech department did exactly that by capturing first place for the third time in succession. This feat is even more impressive when you discover that the school also took the #1 runners-up award in this competition for the second straight year as well.

It all took place at the California Autobody Associations' East Bay Chapter's (EB-CAA) 18th Annual and Final Toys for Tots/Model Truck Competition, where 130 people came out to support auto tech students from five Bay Area schools.
This year, the College of Alameda captured first in this competition again, with a truck they called "Heavy Hauler"-- a white long hauler truck. In addition, the college also won second place with their wine truck. Contra Costa College took third place and the coveted People's Choice award for their fish tank truck. Trucks submitted by Tri-Valley ROP, Mission Valley and Eden Area ROP didn't finish in the top three, eliciting the chant of "Wait until next year!"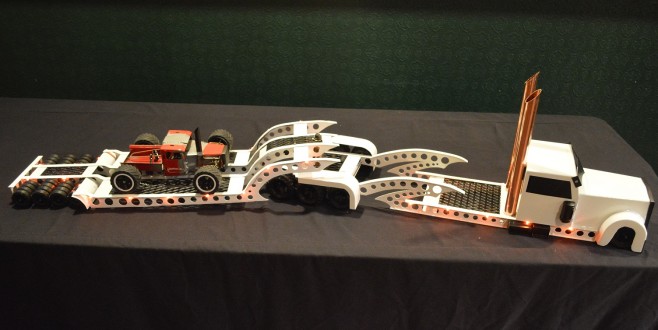 The College of Alameda wowed the crowd with this show-stealing extra long hauler, with a dune buggy-style car onboard.
Marking its 18th year, this will likely be the last competition of its type, primarily because the EB-CAA can no longer find Nylint model trucks for its event. But Chapter President Tiffany Silva isn't easily discouraged, so she is looking for an alternative to the trucks. "Currently, the board is developing ideas to create a fundraising event similar to customizing trucks," Silva said. "These students are so imaginative and their work on these trucks has been amazing every year, so we are confident that we can find something new for them to use their skills and creativity on whatever we find."
The room was filled with excitement and enthusiasm as the student's truck creations were displayed. The attendees all brought toys and two Marines were in attendance to collect the toys as the chapter went over-the-top to create a holiday atmosphere in the room.
Mike Govette from FinishMaster in Concord, CA was one of the initial organizers of this event and was pleased to be there as a judge this year. "A somewhat poignant realization by one of my fellow judges was Gigi Walker when she mentioned that the very first award-winning fish tank with live fish was done by Jeff Picolla of Walker's Auto Body 18 years ago," Govette said. "It seems the event was bookended by fish tanks!" The other judges for the evening included Ron Arth of George V. Arth and Son and Kirk Kapfenstein of Regal Collision in Vallejo, CA.
Another big part of the evening was when the EB-CAA presented the five competing educational institutions money for their auto repair programs, derived from the sales of each customized truck and other fundraising events held all year long. This year, The College of Alameda, Contra Costa College, Tri-Valley ROP, Mission Valley ROP and Eden Area ROP all received $1,000 checks.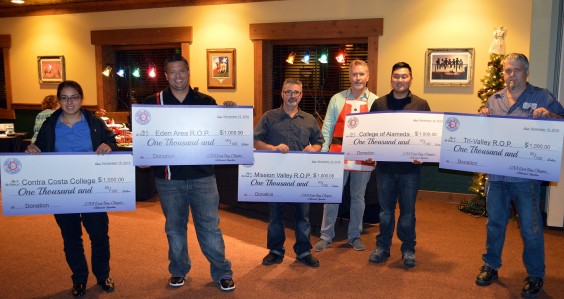 All of the five auto tech schools in the competition received $1,000 checks from the EB-CAA, including The College of Alameda, Contra Costa College, Tri-Valley ROP, Mission Valley ROP and Eden Area ROP.

The highlight of the evening is always seeing the students and networking with them, according to Silva. "We love focusing on the students, because they are our technicians of tomorrow. It is always exhilarating to see the auto tech students competing against the other schools. They don't get class credit for these trucks, so they have to work on them either before or after class, so it means a lot to them and for us as well."
Bill Andrews, the head instructor at College of Alameda sees great value in competitions like these and looks forward to its reincarnation, hopefully next year. "The students really get excited about these projects and winning makes it even better," he said. "We always bring eight students and two instructors to the Toys for Tots/Model Truck Competition every year and it's always a fun evening. Watching as the students work as a team to create something impressive is a big deal for us and for the school."
Peter Ha, the evening paint and refinish instructor at College of Alameda and his classes work year-round to build winning toy trucks, he explained. "We go to Salvation Army stores, hobby stores and even flea markets to find things like wheels and other items for these trucks. The truck my class did this year was almost completely fabricated from scratch, but we did retain some of the original truck and it really came out well."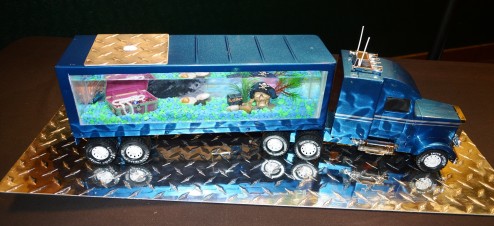 Contra Costa College took third place with this fish tank truck, with working lights, and a live fish.