Whenever there is a tough technical question at the shop, they immediately call upon him, and for the past decade, he has been mentoring and training young body technicians.
His name is Duc Huynh, and he recently celebrated his 26th year as a body technician at Anderson Behel in Santa Clara, CA. His credentials are impressive and his story is amazing, especially when you find out that Huynh is a Vietnamese refugee who did not know how to speak, read, or write in English when he came to the U.S. at the age of 15 three decades ago.
Today, Huynh is a star at Anderson Behel--the only body shop he has ever worked for. The shop's owner, David Mello, remembers the first time he met Duc and decided to add him to his team.
"He came to us from the Central County Occupational Center (now known as the Silicon Valley Career Technical Education Center) in San Jose after graduating from high school in 1989," Mello said. "After interviewing a few prospects, we decided to pick Duc. He had a great attitude that was like 'I can do this.' We sensed that he would excel in the job, and he has proven us right again and again. It is a delight watching him grow as a technician and embracing all of the training and education that is offered to him. Everyone here enjoys working with Duc because he is always in a good mood and has a great sense of humor."
Huynh's family came to this country in the early 1980s, but it wasn't exactly a slam dunk. With his parents, two sisters and three brothers in tow, his family escaped Vietnam and fled to Thailand. But they were detained there and stuck in a refugee camp for almost two years, until divine intervention changed everything.
"We were basically stuck there in this camp and there was no hope, really," Huynh said. "It was scary, especially for a teenager like me. The food was terrible--you had to pull garbage and dirt out of it before you could eat it. Then one day, the Pope came to visit us at the camp. He gave us all a signed picture of him and he spoke to us."
The national publicity created by Pope John Paul II's visit led to several countries stepping up and offering the refugees in Huynh's camp asylum. Since Huynh's father had worked with the U.S. government during the war, they all ended up in San Jose, CA, where Duc began attending Santa Teresa High School almost immediately.
"I could not speak, read or write English, but they stuck me in normal classes and I sat there, staring at the wall," he said. "We had no schooling in Vietnam during the war, so I was way behind for my age. I got straight F's that first year, but slowly I learned English and improved. I learned a lot watching TV, to be honest."
Huynh's achievements as a tech are represented by his impressive array of training certifications. He is an ASE Certified Master Body Technician, I-CAR Platinum (Both Non-Structural, Structural and Aluminum); OEM Certified for Porsche, Nissan GT-R, and Cadillac CT6 and has served as an AYES Mentor for CCOC (now SCTVE) intern students for more than 10 years.
Currently, Huynh is working closely with the shop's newest trainee, Armando Gonzales, according to David Mello. "Armando came to us as a referral from Bob McTaggart, an instructor at SVCTE. We will have him work with each journeyman for at least one month during his internship with Duc. To give him a well-rounded exposure to all of that we do in the metal department at Anderson Behel, Armando will learn about every aspect of the industry."
Once his apprenticeship with Huynh is completed, Gonzales will begin to work on his own, with jobs assigned directly to him. Next June, the shop will likely take on another trainee from SVCTE in an attempt to continually grow their own technicians while providing careers for local students from the South Bay, Mello explained.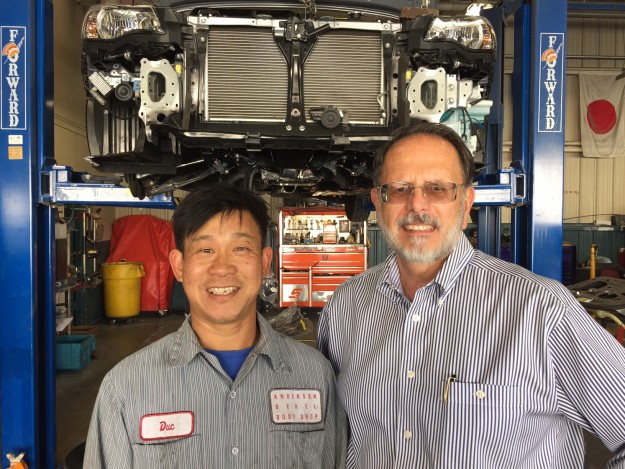 Duc and David Mello, the owner of Anderson Behel. Duc says that other shops try to recruit him, but he will never work for another shop, regardless of how much money they offer him.
Huynh does not hesitate when asked to mentor students at Anderson Behel, even though it requires a lot of time, attention, and TLC. "I show them the right way because it is really the only way to fix these cars," he said. "I teach them the most important things, like being on time and taking pride in their work. You better have some knowledge if you want to make it in this field. I teach them and then they leave, but it is satisfying because now a few of them have careers in this industry."
With qualified body technicians in huge demand, Huynh gets calls from competing shops every once in a while. "Yes, they go Duc hunting," he said with a laugh. "But, I would never think about leaving here. David Mello gave me a chance and sure, somebody can offer me a few more bucks, but what about loyalty? We have a great crew here and a boss who takes care of us. He cares about me and my family, and I will never forget that."
What does Hyunh consider his greatest accomplishment, and what does the future hold for him? "Both of my daughters are going to graduate from college, the first people in my family to do that," he said. "They are top students and I think they are going to have good careers. For me, I just want to get better at my job and help people--our customers, young people who want to get into this business, and everyone else here at Anderson Behel."