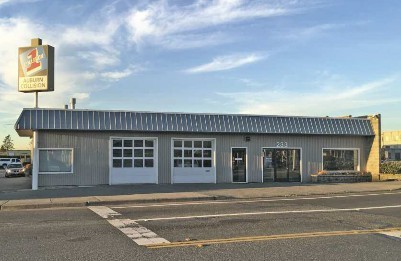 Auburn Collision 1 is a family-owned and operated shop in Auburn, WA which has seen significant improvements in productivity and profitability with BASF paints and primers.
Located in Auburn, WA, Auburn Collision 1 is one of two local shops owned and operated by the Stamps family. After working as a body tech for several years in the late 1970s, owner Gary Stamps ventured out on his own and opened Auburn Collision 1 with a single office and only four garage bays in 1981. "He did it all for eight years and built the business from the ground up," recalled Barrett Stamps, Gary's son and current shop manager who is positioned to transition to the role of coowner alongside his sister within the next year and a half.
Since the shop was founded, it has grown to a 10,000-square-foot facility with 7,200 square feet of production space and 12 employees; the Stamps' second shop in Bonney Lakes boasts an additional 12,200 square feet of production space and employs 15 collision repair professionals. Each shop repairs an average of 115 vehicles monthly, and Barrett largely attributes this high level of productivity to the use of BASF's line of paints and their UV primer.
Auburn Collision 1
Location: Auburn, WA
253-735-0894
www.collision1.com
Type: Collision Repair
Facility Employees: 12 (27 total for both shops)
In Business Since: 1981
DRP Programs: Eight
Number of Locations: Two
Sales: $6.2 million (combined)
Production Space: 7,200 square feet
(22,200 square feet combined)
Auburn Collision 1 converted to Glasurit® 55-line solvent-borne paint in the early part of the millennium due to the company's reputation and the fact that their product offering was superior to their competitors. The shop's painters love the product because it provides a flawless color match and is easy to spray, so they see very few comebacks.
Barrett also said he has experienced a huge positive impact from BASF's UV primer. "Their UV primer contributes to our hyper-efficiency in the shop and has drastically improved our productivity because it dries so quickly. We are able to paint within 30 minutes after applying the primer, compared to normal primers, which can take up to two hours to dry."
According to Barrett, converting to BASF's paint was very easy, and as far as the UV primer, "The biggest challenge was changing the mentality of our painters, not the actual process, because they were taught to use it sparingly since it's more expensive; however, BASF's UV primer makes the process so much quicker that we can repair more vehicles and more than recover the difference in cost."
Painters love the ease in usability thanks to BASF products.
Although Auburn Collision 1 is still currently spraying with solventbased paints, Barrett plans to convert to BASF's waterborne system in the near future. The shop recycles all scrap metal, cardboard, bumpers and hazardous waste in compliance with OSHA regulations.
Using BASF's products has also made a huge impact on profitability for Auburn Collision 1. Barrett said, "Over the past few years, we've measured everything through BASF SmartTRAK®, which allows us to be more successful with the supplements we submit to insurers. It has helped us reduce cycle time, so we can be more profitable, plus it helps us to be transparent."
BASF also provides customers with access to their 20 Group, which is a value-added service that has aided Auburn Collision 1 with profitability and a whole range of issues. The supplier's customer service department has been very supportive in the rare circumstances when the shop is presented with challenges related to their products. "We've never had a negative experience with BASF's customer service department. They come out within a couple days to provide the support we need, but generally, our shop is pretty self-sufficient," Barrett stated.
When comparing Auburn Collision 1 to other shops in his market, Barrett said the biggest difference is that his shop is family-owned and operated. He and his sister both grew up in the family business, cleaning and helping with paperwork on the weekends. During high school, Barrett became more involved as he started prepping and sanding vehicles. After graduating college with a business degree, he returned to his family's shop to oversee production and to use his education to assist with the business components of the operation.
Saving time is essential for a shop that repairs 115 vehicles monthly, but BASF products pay for themselves in time saved.
The Stamps siblings are poised to become second-generation owners of Auburn and Bonney Lake Collision 1 Centers, and Barrett also noted, "Many of our employees have worked here for a couple decades so they saw us grow up in the business and have faith in us to take both shops to the next level. That trust factor really contributes to the relationship between the employees and us as owners."
Both shops are members of the Assured Performance Network and are certified by multiple OEMs. They have nearly completed the requirements to receive their I-CAR Gold designation, and several employees at each facility are recognized as ICAR Platinum professionals.
In recent years, Barrett has noticed a lot of pressure from insurers to reduce costs, and he said, "This is definitely an obstacle when it comes to running a profitable, successful business. It can be difficult to stay competitive against large MSOs who have the advantage when it comes to price consolidation, but this brings shops to a higher level and helps the real performers stand out. The competition is good if you look at it positively. There's no better time to be in this industry if you just look past the negatives and see the light at the end of the tunnel!"