On April 19, celebs, influencers, and media flocked to the new West Coast Customs showroom in Burbank, CA, to check out the latest products on the scene.
Notable attendees included:
Taylor Caniff (Top YouTube/Vine Star, Founder of MAGCON)
Ryan Friedlinghaus (Founder of West Coast Customs, FOX TV)
Sarah Jeffery (Shades of Blue)
Masika Kalysha (Love and Hip Hop Hollywood, Season 1)
Balthazar Getty (The Judge)
Nadine Velazquez (Ride Along 2)
Meghan Tonjes (Original YouTube Star, Recording Artist)
Carlos Moreno Jr. (Frank and Lola)
Spring Fling 2016 served as an outlet for 20 companies to display their game changing products within tech, luxury automotive, and a variety of other spheres. Stand-out products included Orion Lab's new Bluetooth personal communication system, Onyx, and high performance audio and visual connectivity solutions from Monster Products.
3M Automotive Aftermarket Division held a booth at the event, which was supervised by Joanna Murrieta, account representative in San Diego.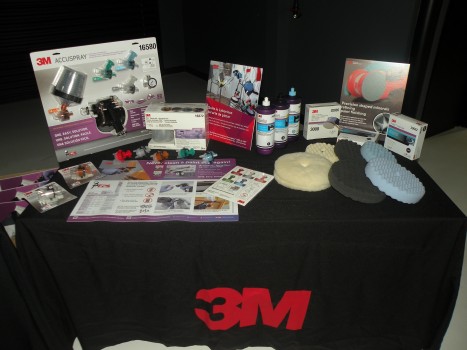 3M Automotive Aftermarket Booth
Murrieta said Cheryl Lynch of Lynch Archer PR Entertainment approached the company about participating in Spring Fling 2016.
"We are proud to say that West Coast Customs uses a variety of 3M products, including our new Cubitron II abrasives, 3M™ Paint Preparation System™ Lids and Liners, Platinum™ Plus Filler and Glaze, and the Perfect-it™ Paint Finishing System among many more," she stated via email. "Together, we partner with West Coast Customs to help them achieve their goal of superior craftsmanship through the use of innovative products which not only increase shop efficiency but deliver consistently superior results."
3M Automotive Aftermarket Division showcased the following products at their booth:
3M™ Cubitron™ II Abrasives
3M Dynamic Mixing System for two part adhesives and sealers
NEW 3M Accuspray™ ONE spray gun
3M Perfect-it™ EX Paint Finishing, Quick Connect Buffing Pads, and Trizact™ Abrasives
"Event goers seemed to be most captivated by the NEW Accuspray ONE spray gun, as it offers an innovative alternative to traditional metal spray guns whose atomizing heads are fixed and can be time consuming to clean," Murrieta stated. "The Accuspray ONE takes less than 2 minutes to clean and sprays like a brand new spray gun every time the atomizing head is changed."
Keith Ferry, Co-founder / CEO of Tire Stickers, based in Van Nuys, CA, manned the company's booth during Spring Fling 2016.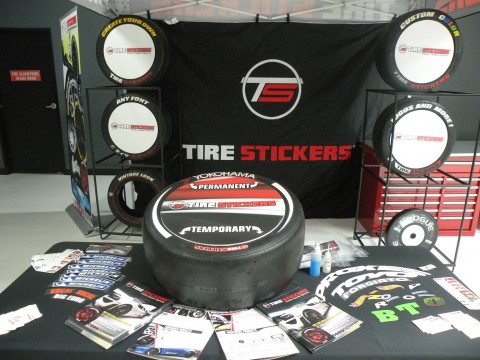 Tire Stickers Booth
According to Ferry, Lynch found Tire Stickers through SEMA's New Products feature, where the company had won four awards.
"West Coast Customs uses our permanent product on many builds, including Justin Bieber's Ferrari and FouseyTube's BMW," Ferry stated via email. "[At the event] we demonstrated all of our products including short and long term durability, RFID technology, and bar codes."
He added that Tire Stickers products are for aesthetic and function use for tires and also other rubber components.
"The most popular products [at Spring Fling 2016] were branded designs like tire brands, auto enthusiast brands like MOPAR and Hot Wheels," said co-founder, Jason Busch.
Apart from checking out product booths and custom cars, guests could also participate in the following activities:
Media obstacle course relays from Urb-E, Urban Electric, the newest offering in electric vehicles
LIVE break dancing demo courtesy of Monster Products
Interactive photo and video booth from Foto Spark
Behind-the-scenes tours of the West Coast Customs facility, back drop for MTV's Pimp My Ride
catering by Ike's Place
Dessert delicacies from Merengue Bakery and Cafe
BeTini Spirits hosted bar
"The event was a success. It was a good sight to see media and business owners networking with each other, but still kick back and enjoy the cars we have here at West Coast Customs," said Rudy Diazzesati, Front Desk Manager. "This is the first year we have hosted and we are definitely interested in hosting it again next year. Big thank you to Product Media Events."
Autobody News also attended the REAL West Coast Customs Car Show on May 7, which took place at the Burbank facility. For photos and coverage, click here.