On March 18, 2016, UTI Rancho Cucamonga led hands-on diagnostic activities at the 7th Annual Auto Club Speedway STEM Day.
Nearly 500 eighth grade students from 17 different schools in San Bernardino and Riverside counties were invited to experience a day of STEM activities at the Auto Club Speedway in Fontana, CA.
The purpose of the event was to emphasize why science, technology, engineering and math are skills critical to the motorsports, auto and diesel industries. The event is a collaborative between the Auto Club Speedway, the San Bernardino County Superintendent of School's Alliance for Education and dozens of partners including UTI.
UTI Education Manager, Todd Gaither, led hands-on activities about diagnostic software. The curriculum is also taught in UTI's Ford FACT elective, which requires 15 weeks of training authorized by the Ford Motor Company.
Using a Ford F series truck, the students learned the ins-and-outs of engine horsepower and how different components, like adding fuel, enhance vehicle performance. They also learned about inputs, like sensors that monitor pressure, and outputs, like computer systems, that control turbo levels.
"Today's cars have more computing power than the system that guided Apollo astronauts to the moon," said Rancho Cucamonga Campus President Roger Speer. "Advanced, computer-based technologies are at the heart of modern industry, and modern service technicians must be experts in the complex, innovative digital systems that power modern vehicles."
"UTI has partnered directly with manufacturers of more than 30 top brands to create some of the most innovative and sophisticated education programs in the automotive, diesel, motorcycle, marine and motorsports industries," added Speer.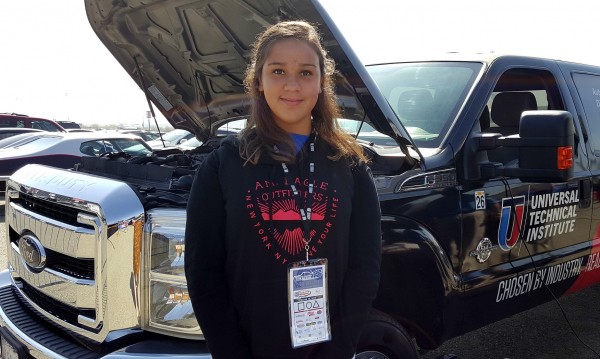 The UTI tent at the Auto Club Speedway STEM event was a hit with 8th grade students like Claire who wanted to see first-hand how science, technology, and math can be used in a real career.
Also on March 18, 2016, Roush Yates Engines visited UTI Rancho Cucamonga's Power & Performance Class.
UTI partner, Roush Yates Engines, discussed the opportunities a UTI degree affords – and exactly what they are looking for in their next hire.
"Being able to walk in with a UTI degree is phenomenal, and provides another layer of confidence for our new hires," said Todd English of Roush Yates.
To date, Roush Yates Engines has hired more than 75 UTI graduated in various positions; from quality assurance to Ford race calibrators on the Ford GT program.
During the visit, Roush Yates Engines representatives Todd English, Jeff Clark and Jeff Paxton encouraged students to continue their hard work at UTI. UTI students also experienced "powerful and educational" Dyno Power & Performance presentations by the Roush Yates Engines team, said Instructor Marty Zuniga.
"The popular series of Power & Performance courses is a capstone to UTI's core automotive training," said Zuniga. "They cover topics such as cylinder head preparation, camshaft technology, working in a zero-defect environment, and performance modifications including turbocharging and nitrous oxide, giving students skills they can put to work in the motorsports industry, or as service technicians for leading auto manufacturers."
Since 2004, Roush Yates Engines has achieved over 255 combined victories in the NASCAR and IMSA Series. Roush Yates Engines supplies Ford FR9 V8 engines to the prestigious NASCAR Sprint Cup race teams of Roush Fenway Racing, Team Penske, Richard Petty Motorsports, Wood Brothers Racing, Front Row Motorsports and Go Green Racing as well as Xfinity and Camping World Series teams. In 2016, Roush Yates Engines will also build the twin-turbo Ford EcoBoost V6 engine for Ford Motor Company's historic return to Le Mans with Ford Chip Ganassi Racing teams.
Not only does the company's cutting-edge technology win on race tracks, it ultimately makes it into the automobiles we drive today and benefits the more than 30 industry-leading manufacturers. This includes companies like Ford Motor Company, Toyota, BMW, and Mercedes-Benz -- with which UTI has training partnerships.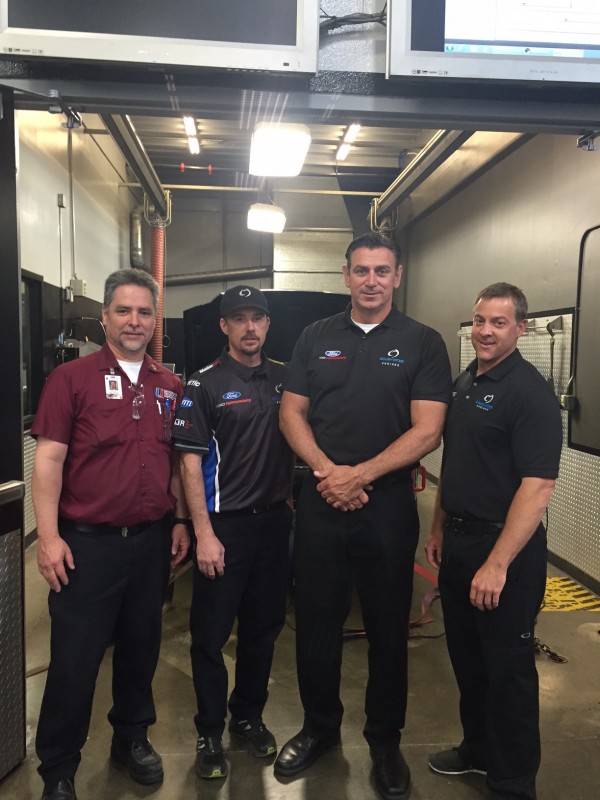 UTI Rancho Cucamonga instructor Marty Zuniga huddles up with the Roush Yates team for Power & Performance Dyno presentations.
Power & Performance courses are a requirement in the final leg of training as part of UTI's in demand auto and diesel technician training program.
"They're a student favorite," said Zuniga.
This April and May, UTI Long Beach will begin offering additional Roush Yates Power & Performance courses. Students will have the opportunity to apply the techniques and technology that legendary NASCAR speed shop Roush Yates Engines uses to power its championship winning NASCAR race cars.
This series of three, three-week courses (9 weeks total), gives students specialized training in designing, building and modifying high-performance engines.