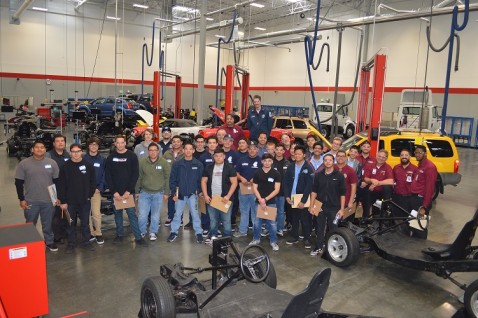 Twenty-eight L.A. area high school students competed in the UTI–Long Beach Top Tech Challenge. Competitors are shown with UTI instructors following the competition where $59,000 in scholarships was awarded.
Fourteen two-person teams from 10 high schools in the greater Los Angeles region squared off on January 16 to test their knowledge and expertise in automotive tech at the Top Tech Challenge hosted by Universal Technical Institute (UTI-Long Beach).
The student teams competed in written and hands-on testing on vehicle parts, brakes, diagnostics and electrical systems for a chance to win one of 20 UTI scholarships valued from $10,000 to $1,000 each; a total of $59,000. The top three teams also won a $5,000 worth of Snap-On® tool for their schools.
A team from Van Nuys High School was awarded first place. Team members Rend Mandayo and Jaspal Dhillon ran to the stage with excitement when their names were announced to collect $10,000 scholarships to attend UTI. Just as excited about the victory was their auto teacher Joe Agruso whose classes will benefit from the other prize, a custom UTI Top Tech Champion Snap-On tool chest and tools valued at more than $2,000.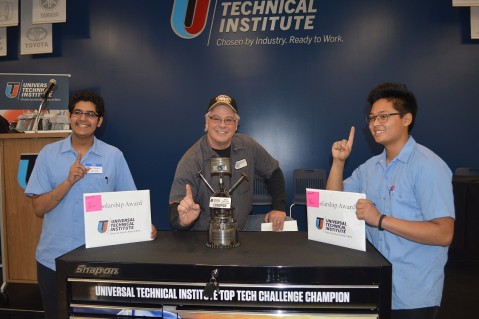 (L to R) The winning team of Jaspal Dhillon and Rend Mandayo are pictured with their auto teacher Joe Agruso and the custom Snap-on Tool chest.
Campus President Larry Hohl and Long Beach District 5 Councilwoman Stacy Mungo presented the awards. Mungo congratulated the students for their initiative, accomplishments and investment in their future.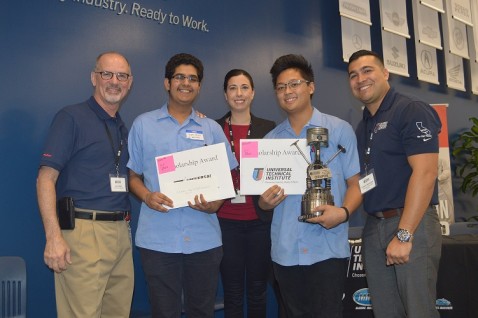 (L to R) UTI-LB Campus President Larry Hohl, Jaspal Dhillon, Long Beach City Councilwoman Stacy Mungo, Rend Mandayo, and UTI Regional Admissions Director Gabriel Hernandez.