This giveaway marked the 10th anniversary of Regal Collision presenting refurbished vehicles to people and non-profit organizations in need. Last year, the San Francisco Skate Club, a non-profit group that mentors youth through skateboarding, received a 15-passenger, personalized van from Jim and Shellie Boyle and their crew, led by Production Manager Kirk Kapfenstein, as part of their annual Benevolence program.
Jim said he is always looking to help the community in Vallejo and he believes that by giving people the gift of transportation they can enhance their lives and enable themselves and their families to do amazing things.
"Every year, we always want a recipient who is willing to change his or her life," he said. "We don't want to just give someone a handout, we want to give them a hand up. Mariah was a perfect candidate for the vehicle this year, because once we heard her story, we felt compelled to help."
McCauley, 40, drove a "tired" car that hung in there for a while, but when the engine decided to retire itself, she was left in a tight spot. Still looking for employment after two years, McCauley could not afford car repairs and was spending so much of her time arranging transportation for her children, she couldn't operate her business — a massage therapy clinic.
"It has been hard for us for the last two years," McCauley explained. "But having a car now will save us so much time and let us pursue so many other things. Before, getting to and from school and work was a big deal, but now we can just jump into the 4Runner and drive there. It's going to make life so much easier. It's just such a blessing."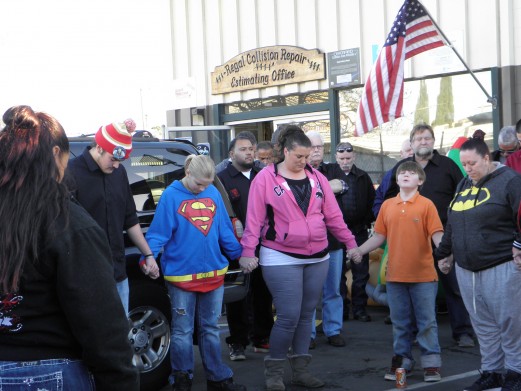 The entire crew at Regal Collision was on-hand to participate in the vehicle presentation. They fixed the car, painted it and did all of the other work to make it looking pristine.
Jim and Shellie said McCauley was lured to the repair shop for a job interview, but once she arrived they told her about the surprise.
"That part of it was really fun," Jim said with a devilish grin. "She had no idea and her expression was priceless. We figured, why not have a little fun with it? The hug she gave me after she realized what was going on is something I will never forget."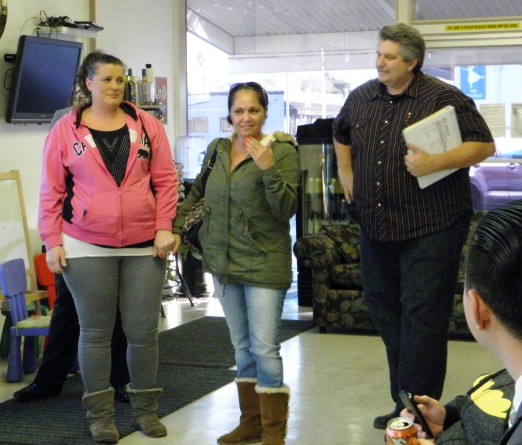 In this photo, recipient Mariah McCauley (left) is realizing that she's getting the car, along with Mary Wilson, who referred her and shop owner Jim Boyle.
McCauley's car was donated by Fighting Back Partnership, a non-profit collaboration that partners with the businesses and government agencies to improve local neighborhoods and strengthen families.
McCauley and family also received gift cards donated by several organizations in the community and the vehicle's title and insurance will be paid for six months, according to Jim.
John Allen, a former convict, is the associate director at Archway Recovery Services in Fairfield, CA. He helped to get the car for McCauley and worked closely with the Boyles and Mary Wilson, the person who originally suggested the deserving recipient.
"The Boyles at Regal Collision gave me a van for our organization years ago, so I know they are very generous and always willing to help in any way," Allen said. "We showed Mariah's application letter to Shellie and Jim Boyle and they said 'let's do it.' They are amazing people because they believe in changing peoples' lives through these vehicles and have seen the results over the years."
Even though he's a veteran of the Regal Collision Benevolence, Allen gets emotional every time he sees a car giveaway such as this one. "I admit, I got a little misty, especially when Mariah's kids started hugging everybody," he said. "She's a good mother and a great person and all she really needed was some help. This Toyota 4Runner will help her in so many ways and make her life so much easier every day."