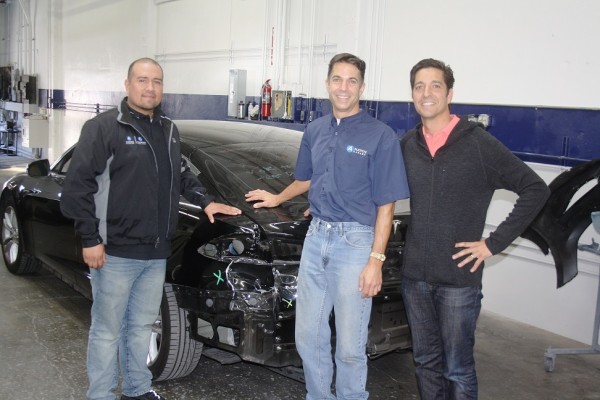 From left, General Manager Chris Diaz, VP Matt Alioto and President Chris Alioto run Alioto's Garage, the oldest shop in San Francisco and currently fixing over 500 cars monthly.
But, in other ways, San Francisco can also be a tough place to run a body shop. Parking is scarce in most cases and many shops spend countless hours moving cars around due to a lack of space. Rent is through the roof, so many employees can't afford to live in SF. Lastly, watch out for all of the rules and regulations, because California isn't known for being business-friendly, to say the least.
Despite all of the obstacles that exist in San Francisco, one shop has outlasted them all, by doing quality work, treating their people right and going way over the top when it comes to customer service. It's called Alioto's Garage, a business that has been flourishing in the City by the Bay for the past 76 years.
It all began in 1939, when Frank "Babe" Alioto Sr., the first American born child of Sicilian immigrants, opened his doors at Alioto's Garage in Daly City, CA. With business booming, Alioto moved the auto body shop to San Francisco's Marina District in 1946. The business grew as the country rebounded from World War II and the shop started working on all of the new Packards, Chryslers and Plymouths that started hitting the roads in the Bay Area.
Babe raised his son, Frank, Jr. in the shop and taught him the ins and outs of collision repair and refinishing. When Babe passed away in 1962, the torch was logically passed on to Frank, Jr. Frank Alioto eventually moved the business to Folsom Street in 1972, still home to their main location.
A father of two boys, Frank Alioto Jr. continued the family tradition by raising Matt and Chris essentially in the shop. Matt and Chris slowly took control of the business, and as it grew, they decided to expand their Folsom Street store. They first added a parking lot, then in 2007, another building was added to the shop and increased capacity by another 18,000 square feet.
In 2011, they purchased another shop on the northern side of San Francisco. "Many of customers drove across the city to see so it was a logical expansion to expand to that area," Matt Alioto said. "We were nervous but decided to take a chance and it paid off." In 2013, Alioto's opened a brand new facility on the southern side of San Francisco.
Vice-President Matt Alioto, 43, is the father of two boys, and company President Chris Alioto, 41, has one son and two daughters. As third-generation owners, Matt and Chris almost didn't enter the family business as the two decided to pursue other careers.
The two brothers decided not to work in the family business initially. "I went to school for IT and Chris went to work for a mutual fund company after college, so we were not going to take over the business, at least at first," Matt Alioto said. "We worked at the shop growing up, so we knew basically how it worked, but we wanted to do our own things."
Then, one day Frank Alioto, Jr. made a phone call to his sons that would forever change their lives. "He told us he wanted to retire, so if we weren't interested in getting involved, he would close the doors and sell the shop," Chris Alioto said. "I saw some real potential there, because my father and my grandfather had built up a solid business, so I decided to join the company and Matt followed shortly thereafter. Dad taught us the business he knew. But he also knew times were changing and over time was supportive of the changes we wanted to make."
The two brothers work well together because they have different skills and that's why they make an effective team, according to their mother Carolyn Alioto.
"Matt is the technical one and Chris has a great mind for business and relationships," she explained. "They balance each other out and they both share a passion for this business. My late husband was so proud of these kids, because they took what he did and made it better. He passed shortly before they obtained their Tesla and Porsche certification; I know he's looking down at them and smiling. Many family businesses flounder during the third generation, but with Matt and Chris, it is growing every year."
By assembling a winning team, Alioto's is now fixing 500 cars on average. The day-to-day operations are handled by General Manager Chris Diaz, 30, who supervises and motivates approximately 70 employees as the shops balance 10 DRPs.
With a track record spanning seven decades, the Alioto family has seen the collision industry change in many ways. "I remember our first DRP with State Farm," said Chris Alioto. "It was new to us. We were happy to have regular work coming in, back then they just let us fix the cars. Now it takes knowledge of OEM procedures, special training and tools to ensure the repairs come out right. Our insurance partners rely on us and trust us to stay up to date; it's our responsibility."
Matt Alioto is most excited about the technical advancements that have taken place in the industry. "The technology and the computers are probably the most significant things," he said. "With the Internet, shops are more transparent and the customers are more educated about what we do. Aluminum and all of the new repair techniques on these newer vehicles are also big changes."
Alioto's was fortunate to see the wave of the future and pushed hard to be at the forefront. By embracing the rush to aluminum, Alioto's acquired OEM certifications from Tesla, Porsche, Infiniti, and Ford F-150. The Alioto brothers show they are not afraid to invest in equipment and training to get to the next level. "We want to repair these cars right, so we make sure that we're using OE procedures and have the proper training for our people," GM Chris Diaz explained. "We want to be a top-tier shop, so that customers will go out of their way to bring their cars here."
Is there any chance that Alioto's will one day become a fourth-generation business?
"We'll see, but right now our children are a little young," Chris Alioto said. "Our children are enjoying just being kids. If any of our children want to enter the business, we'll be happy, but if they want to pursue anything else, we'll be 100 percent supportive. We want them to be happy and find something they love to do, whatever it is. My brother and I didn't think we'd be working in the family business either, but look at us now!"