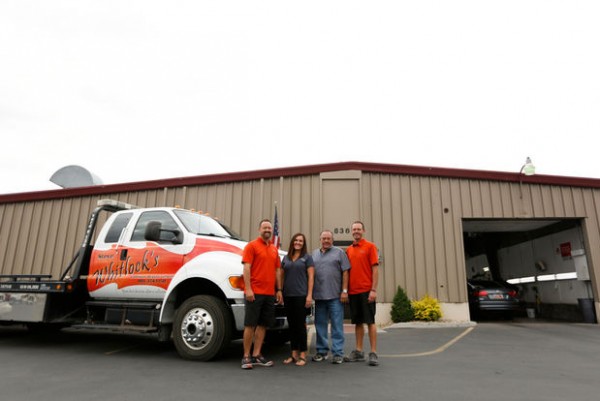 Travis Whitlock, Stephanie Larsen, Steve Whitlock and Brandon Whitlock pose for a photo on Monday, Sept. 14, 2015 at Whitlock Collision Repair Center in Provo. The Whitlocks are celebrating their 40th year in business.
SPENSER HEAPS, Daily Herald
In 1975, Steve Whitlock was a young twentysomething when he started Steve Whitlock's Collision Repair Center on 100 East in Provo. Just a few months into the business, he already needed to hire on help. Just three years later, he had expanded so much he had to buy the large lot across the street so he could accommodate the volume of vehicles coming in and out of his shop daily. This year, he and his family are celebrating being in business for 40 years.
When Whitlock started, he and his team did everything by hand. To realign a kinked car frame, they used a tape measure and eyesight. To assess how much repairs would cost, they used their auto know-how to estimate which parts they'd need. And the paint they used those many years ago was much more toxic than today's options.
"Now the alignment is all done by computer. We set the car on the frame rack and the computer measures the body dimensions, and tells you where to adjust it exactly," Whitlock said. "Before if you were hit on the side, and it crumpled your two side doors, we'd adjust it to as straight as we could, then try to hang the doors. If they didn't fit, we'd have to take it all apart and fix it again. Now the machine tells you where to fix it, and when you put those doors on, they fit."
Whitlock said the improvements and developments in auto collision care has been a huge benefit to the industry. Changing from the dangerous paint chemicals from yesteryear to the water-based ones they use today has made the business healthier for employees and Whitlock himself, who's always been known for his painting and detailing. Estimating cost has improved as well, as they can input a car's serial number into their computers and get a list of every part that car was built with.
"Computers have really taken the guesswork out of all of it," he said.
Whitlock is now retired, but the company still continues on under the care of his three children, Travis Whitlock, Brandon Whitlock, and Stephanie Larsen. The transition from his management to theirs 12 years ago was seamless because all three of his kids grew up in the business. All three have memories of hanging around Dad's shop after school and during the summers learning how to fix cars.
"We probably got in the way of the workers a lot, but we learned a lot," Travis Whitlock said. He even painted his first Volkswagen car fender at age 6.
"It was fun growing up here, riding motorcycles around the lot, learning how to drive a car at an extremely young age," Brandon Whitlock said, while Steve Whitlock chuckled. "We'd ride our bikes down from the house to the shop every day after school."
From their grade school days to their high school years, Steve Whitlock's children's education was hands-on in the shop. From learning to paint and finish the cars, to helping aligning car frames, they learned all of it as they grew. As they moved into their teens, Steve Whitlock bought them a wrecked car.
"Dad bought me a '66 Fastback Mustang when I was 13, and said, 'Here's your car for when you are 16, now get it built,'" Travis Whitlock said. "He did that with all of us."
Travis Whitlock still has that Mustang. Though they both can remember their first cars – Brandon Whitlock's was a '71 Ford Bronco, and Larsen's was a '85 Mustang Convertible – Brandon and Stephanie no longer have theirs. But they still remember the effort.
They all had thoughts of branching out into other careers, but each of the Whitlock children came back to the family business. They were drawn to fun of the industry, and the opportunity to work together.
"I know other families that can't work together, but it's worked for us. It's good for us," Travis Whitlock said.
Travis Whitlock is company's general manager, Brandon Whitlock does estimating, part ordering, and according to Steve Whitlock, "lots of other things that keep us going," and Larsen runs the front office. Steve Whitlock said they all just evolved into their roles, and are happy with them.
"I've always enjoyed it. It's not every job that a girl gets to go to lunch with her dad every day. It's fun working with him," Larsen said.
The fun bleeds over into the non-family employees as well. Steve Whitlock said they have 12 employees, and most of them have been with them for more than 25 years. One has even been there 38 years, almost since the beginning.
"That's a huge part of our success – we retain our employees – that's huge for the auto industry. We all work really well together," Travis Whitlock said.
Even with all the changes in the auto industry, the ongoing need for continuing education, the employees and family continue to adapt the business to keep it successful. Travis Whitlock said there are large corporate collision operators who are rolling in to the state, buying up local shops. Those will be solid competition for Whitlock Collision in coming years, but the family feels that they've made a name for themselves.
"Being honest, doing quality work and timely repairs, and doing the right thing for customers – that keeps people coming back," Brandon Whitlock said.
Karissa Neely reports on Business & Community events, and can be reached at (801) 344-2537 or kneely@heraldextra.com. Follow her on Twitter: @DHKarissaNeely
We would like to thank Daily Herald for reprint permission.