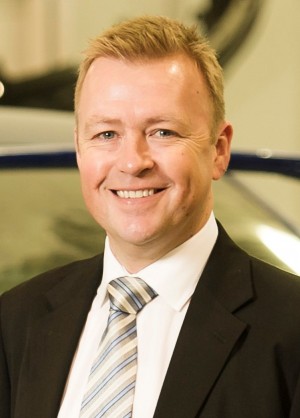 Wedge Clamp's Chief Operating Officer for the United States, Peter Allan
During the opening day luncheon, attendees had the opportunity to tour the 30,000-square-foot-facility, and learn about the centerpiece equipment, Wedge Clamp Systems, which consists of lightweight, portable anchoring, measuring, and pulling tools.
"They all loved it," said Peter Allan, Wedge Clamp's Chief Operating Officer for the United States. "Some very important insurance people were here for the luncheon, including reps from three of the major insurance companies -- AAA, Allstate and Mercury."
Craftsman is the largest independent body shop chain in North America, and has used Wedge Clamp Systems since day one, according to owner Bill Hatswell. Canada isn't the only country that has reaped the benefits of Wedge Clamp Systems; the products have been utilized in 17 locations, including Russia, China, South Africa, Australia, and Saudi Arabia.
"It has always been Bill's vision to bring the product to the U.S.," said Peter. Wedge Clamp Systems USA office is being run by Peter and Craftsman Collision USA is being run by Melanie Allan – Hatswell's daughter. The couple previously lived in Sydney, Australia, and agreed they would run a shop if it was located somewhere with a similar climate to their home, and sunny Southern California passed the test.
"Wedge Clamp has an 80 percent market share in BC, Canada and we have over 23000 Systems in use worldwide," said Peter.
He went on to explain that the high cost of space in Canada is what inspired the creation of a system 30 years ago that makes the most of every square foot. With prices rising in the U.S., body shops that make the transition to Wedge Clamp Systems can also save money and increase production.
"Everyone is looking at their square footage thinking, 'How can I make the most money by utilizing this small space? By having a rack or bench system the space is only being used 10-20 percent of the time which leaves that floor space unusable for 80-90 percent of the time. That floor space is dead money to shop owners."
Compared to bench top repair systems, which tend to be costly and space consuming, the Wedge Clamp System is lightweight and affordable, and stores in much less space because many components hang on the wall, according to a company press release.
"With Wedge Clamp you can use 100 percent of the space 100 percent of the time," added Peter.
The so-called 'express shops' dealing in relatively light damage represents a particularly rich sales opportunity, Peter said. "They get cars with what looks like minor damage, but once they pull the bumper or quarter panel, they often discover there has been frame damage as well. They don't have a rack system to fix it, and they don't want to have to flatbed it to another shop. So now instead of the high cost of buying a rack, they can use the Wedge Clamp EZE Tie Down system," he explained.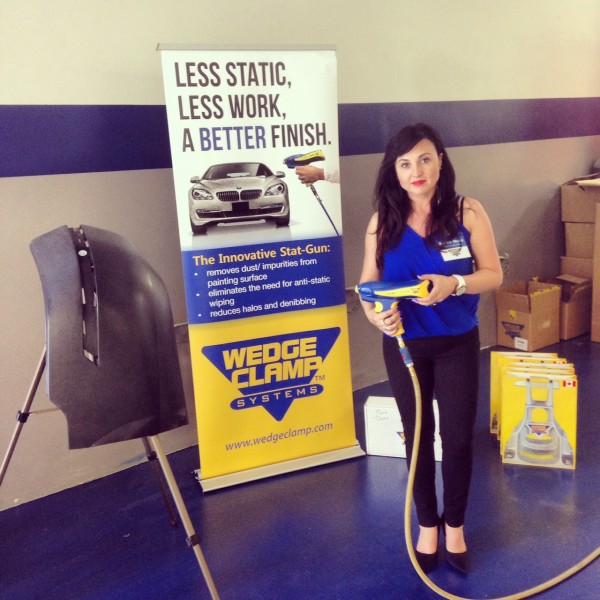 Wedge Clamp's Chief Operating Officer for Canada, Rodica Matei, poses with a Stat-Gun during the opening day luncheon on August 20.
The week before the grand opening, Peter met with Caliber Collision, an U.S.-based MSO looking for a system that will get cars out in two days. He added that other "big players" in the industry have also shown interest.
"Our main goal right now is to get a really strong foothold in Southern California; from Los Angeles down to San Diego," said Peter. "Northern California will hear about it, and eventually it will spread across the country."
In addition to its California address and Richmond, BC head office, Wedge Clamp has a facility in Suzhou, China. The company's recent growth comes with an expanded product lineup including distribution of the Eclipse laser frame-measuring system and the Stat-Gun anti-static paint preparation tool, which Caliber Collision is currently testing at their facilities.
"The anti-static gun removes 100 percent static from anything you're painting," said Peter. "It also gets rid of tiger striping and halos when you're spraying, and leaves no dust."
BASF Automotive Refinish demoed the nitrogen spraying system, NitroHeat, at the August 20 event.
"By using 98 percent pure nitrogen, you will actually find that you can turn the pressure on the air gun down, allowing for 15 percent savings," explained Peter. "In reality, you can save 20-30 percent in paint per job, making flash times 20-30 percent better; 30 percent if it's water-based, 20 percent if it's solvent-based. So, you'll be completing more jobs, yet using less paint per job."
He added that users will see pay back on the system in about nine months.
"Wedge Clamp Systems do not break – we know of shops that have been using the same product for over 20 years – so you only have to buy it once," Peter said.
For more information, phone 1-888-852-7879, visit www.wedgeclamp.com or email info@wedgeclamp.com.