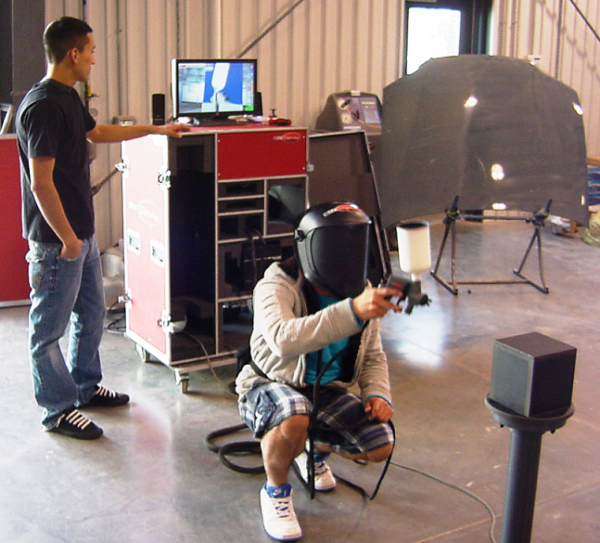 Getting a paint simulator for the school was just one of the many wonderful things Peter Lock did for the auto services department at CCC during his 36 years at the school.
Changing lives and building one of the most impressive auto tech programs in the U.S., Lock turned the auto services department at CCC into a premier program that has trained more than 3,500 students during his 36-years on the job. Offering a two-year, four-semester program in either collision repair or automotive technology, Lock created a curriculum that consists of a combination of classroom teaching and hands-on laboratory studies.
Lock came to CCC initially as a student himself to learn how to be a body and paint tech in 1973 and got a job in a shop upon graduation, but he wanted to return to help the school and that thought never left his mind. "I could see a lot of opportunities there and so many things that could be improved," Lock said. "I wanted it to be more than just a fun series of classes that do-it-yourselfers and hobbyists could take. My vision was to train students so that they could get not just jobs, but careers."
Looking back at what he's achieved at CCC must be highly satisfying to Lock. Today, the auto repair classrooms and laboratories consist of two separate facilities under one roof, Lock said. The collision repair department and mechanical repair department has a combined enrollment of 150 students. CCC offers the I-CAR Professional Development Program/Education Edition, one of only a handful of post-secondary schools in California to do so, Lock said.
At SEMA in 2013, the department won a $50,000 grant for its excellence and used the money to buy a SimSpray paint simulator and other much-needed things, like new desks. And most recently, Lock and his department landed an $111,000 grant for its welding program, to be spent on 60 laptops and six welding simulators.
Before he was ready to retire, Lock wanted to make certain that his department was in good hands for obvious reasons, he explained. "A few years ago, I stepped away from being the Chairman of the Automotive Technology Department at CCC, and handed if off to Lucile Beatty, so that I could concentrate more on teaching. This program is my life's work and I want to see it still going strong when I'm in my eighties. So, once I could see that Lucile was doing a great job, I started thinking about retirement, because I am confident that she is the right person to take the program to the next level. She is a perfect fit for this job, because she has learned how to deal well with the administration and navigate skillfully through all of the different aspects of the position."
We asked Lock, what exactly is that next level? "I envision a program where we can guarantee employment for students who graduate," he said. "More shops, especially the larger MSOs need to get involved, by offering apprentice programs and other programs. Mike's Auto Body, Cook's Collision and Service King are also stepping up and offering real opportunities to our students, but we need a lot more onboard to do these types of things. They're not just helping a student, they're setting them up with a career and that's our goal."
What will "Mr. Lock" do with all of his free time now that he's retired? "Well, I can spend more time with my family (wife Suzanne, son David and daughter Stephanie and one grandchild) because they were so patient and understanding while I worked weekends and nights for so many years. Also, I will work on my homes and my 1967 Mustang convertible and of course, I am still going to teach part-time at CCC."
Greg Decker, the owner California Color Source, Inc. in San Leandro, CA said he has seen Lock build the program and help improve countless peoples' lives. Decker has assisted the instructor in many ways, including the Careers with Cars Program and multiple California Auto Body Association events, where lasting friendship was formed in the mid 1990s.
"Peter Lock has provided inspirational dedication to providing young people of all backgrounds a potential career path in the Collision Repair Industry. I personally know a number of his past students who have excelled based in part, I'm sure, from the start they received from 'Mr. Lock'. Peter continued to build and support the Automotive Repair program at CCC despite budget and program cuts through the years. He was able to keep the program moving forward, I believe because of the respect and relationships he had built with the school administration. He was able to keep the program moving forward, I believe because of the respect and relationships he had built with the school administration."
A former student and a good friend, Jim Boyle, the owner of Regal Collision in Vallejo, CA credits Lock for changing his life. "The Collision repair industry will greatly miss Peter Lock when he retires. I met him in the early 1980s at the first I-CAR refinishing class held in our area. He was a fairly new instructor at Contra Costa College and his energy, enthusiasm and knowledge, as well as skill of the collision repair industry, was amazing. Besides being our teacher, he has been a terrific role model and mentor. The people who have completed his program are the present and the future of our industry. Knowing Peter has helped me with my career and enriched me with his friendship and I credit him for much of what I've achieved in this industry."
Dan Welsh, owner of Crockett's Premier Auto Body in Pinole, CA did his apprenticeship at CCC and worked as Peter's assistant for several years. "When he first started teaching at the school, I could tell that he had bigger plans for the department. He wanted it to be a full-fledged program and not just something for hobbyists. We hit it off and pretty soon I shared his vision for what we could achieve at the school. In 1988, Peter called me and asked me if I would help with the I-CAR classes and I didn't even hesitate. When I think about Peter Lock I think of dedication and integrity."
Laura Salas taught the collision repair business from her father and through the automotive repair department at CCC. She credits Lock for much of her success today and one of the main reason why she currently owns and runs Black Diamond Collision Center in Pittsburg, CA.
"Mr. Lock taught me a lot about life and helped me to become a better person," she said. "By graduating from the program at CCC, I was able to start this shop with my father, who has been in the trade for 30 years. Mr. Lock is an incredible teacher, because he truly cares and he shows it. He gave us the resources to succeed. I wanted my welding certification, and he made it happen. I owe him a lot, because he played a big role in helping me to get to this point as an owner of a shop."