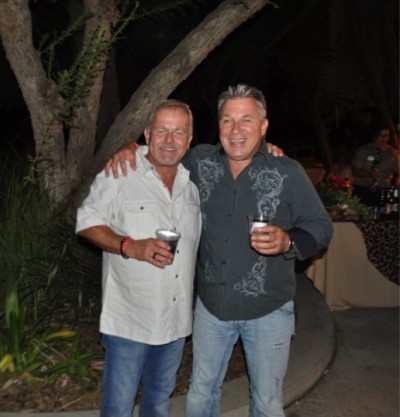 CARSTAR owners and high school friends, John O'Hara and Bob Dresser, reunite 35 years after graduation at the MSO's annual convention in San Diego.
While standing in line for lunch, one owner overheard an introduction of two other owners. He quickly realized that they had a past connection – best friends in the class of 1977 at Lakeshore High School in St. Clair Shores, MI.
Today, John O'Hara is the owner of CARSTAR R&R Collision Center in Orlando, FL, and has been in the business for 35 years. Bob Dresser owns CARSTAR Collision Masters East in Las Vegas, and counts more than 25 years in the collision industry.
"During a lunch recess at conference, I was in the food line and I heard Bob introduce himself to another gentleman," said O'Hara. "When I heard his name, I thought to myself that this looks like the Bob that I knew from school."
That's when O'Hara stepped in to see if it was indeed the same Bob Dresser he knew 35 years ago.
"When I introduced myself to someone else in the lunch line," said Dresser, "John looked over and asked if I went to Lakeshore high school. When I told him that I had, he introduced himself as John O'Hara, and I immediately recognized him."
The two had not seen each other since getting their high school diplomas. Two years after graduation, O'Hara moved to Florida, continuing his career in the collision repair industry. Dresser stayed in Michigan for a while longer, eventually owning his own shop before selling it and moving to Las Vegas 21 years ago.
"I had not seen him since high school graduation in 1977," O'Hara said. "It was bizarre to run into him after all of these years, and both of us being CARSTAR owners. In high school, and still today, we both had a passion for cars and bodywork and painting. I remember him starting out on his own. He was the only fellow I knew in high school that was getting into auto body."
Both O'Hara and Dresser reconnected immediately at CARSTAR Conference, and even though they live more than 2,300 miles apart, the two plan to stay in close contact.
"We sat down and ate lunch together right when we met," said Dresser. "We went to the Conference closing ceremony together with our wives, and we've talked several times since them. We will get together again, for sure."