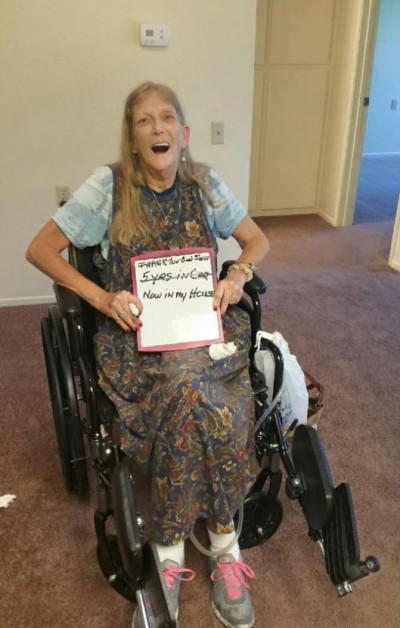 Cici Brown enters her new home for the first time after living in a car for five years with ALS.
The couple had been living in a Ford Taurus with a broken air-conditioner for five years before moving into the small one-bedroom in Pomona, CA. The already difficult situation was made even worse when Brown was diagnosed with ALS, which led to her dependence on a feeding tube and an inability to speak.
"It wasn't easy. I would go into McDonald's and get water to flush her G-tube that she has in her stomach and then I would give her food and her medicine in the car," Ressler told Eyewitness News.
The non-profit Vet Hunters first found the couple parked at a McDonald's three months ago. Even though the pair aren't vets, the small volunteer organization knew they had to help after heading their story.
"All of us are on a journey and none of us got to where we are on the mountain by ourselves," Kevin George, executive director of Vet Hunters, told Eyewitness News.
"We got there because of friends and parents and coaches and teachers who all reached down and gave us a hand at some point. And that's all we're doing. We're just reaching down and grabbing the hands of other people that are struggling on their journey."
Vet Hunters also surprised the couple with a refurbished vehicle donated by John Yousoufian, a long-time supporter of Vet Hunters and owner of Hye Tech Auto, an auto repair shop in Covina. Yousoufian assured the couple that everything worked in the car, including the air conditioning!
"From day one, it's been very moving, their story and what they've gone through. And I'm just so glad to see the progression and to actually be a part of the change in their lives," Yousoufian told Eyewitness News.
Vet Hunters rely on private donations to be able to help veterans. If you would like to help, donations can be made at www.VetHunters.org.