Click HERE to download a PDF of this article.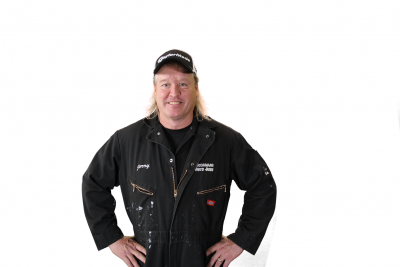 Jerry Wientjes, owner of McCarran Auto Body in Sparks, NV
"The premise of the show is behind every auto accident is a unique story to be told," said Lyons. "The series follows the outrageous and comical stories told through the eyes of the customers and employees."
Lyons said that after working with Jerry and his team, they noticed Jerry's personal connection to his clients is what makes him so successful.
"His ability to draw stories out of his customers and give them the reassurance that he will make it better is a strong driving force that not only makes for a great show, but also a tremendous business," he said.
Wientjes said the premise is three cars, three stories and a lot of camaraderie. He is a reality TV show fan himself. He said that he noticed that the process of repairing a car is rarely shown, and never in any detail.
"I thought it would be so helpful to educate the public about what goes on in the repair process," said Wientjes. "Until now all representations of the repair process showed an unsightly car being rolled into the shop and re-appearing minutes later completely repaired."
He began toying around with the idea of creating a show that was both informative and entertaining. Years earlier he had discussions with his wife's uncle Bill about reality TV. Bill was a seasoned Hollywood writer for many hit shows in the '70s and '80s.
"He would say that inspiration for a plot often comes from real life situations," said Wientjes. "Sometimes the chemistry is just right and it works." He recalls Bill telling him, "You can't make this up!"Realizing that a body shop is not the ideal backdrop for filming, Wientjes and his crew spent countless hours sprucing up the place. This included removing clutter, painting walls and floors. Although McCarran Auto Body had been producing and airing commercials for more than two decades, Wientjes quickly discovered it would not be easy to find a film crew with the experience and equipment required that had any interest in filming for days at a body shop. The first few calls were less than encouraging. In fact a producer suggested that he just get a "Go-Pro" and do his own filming.
Finally he got a break. After contacting Sam Breen, and John and Brian of CID Media (a local production group), they agreed to come to the shop and film for a few hours to see what would transpire. After the first day, they were optimistic and agreed to return for more filming. As the days turned into weeks a show began to emerge. Wientjes said it was certainly not an easy process.
"We would meet before filming and come up with a concept for that day," he said. "Inevitably something unexpected would happen, and we would just go with it. By the time the first show was complete we had developed a very comfortable relationship with the film crew, so they were able to film us just being us."
Wientjes said that during the course of filming their first show he had a meeting with his longtime friend and attorney Curtis Coulter. "Coulter has an uncanny way of communicating his vast knowledge of the law," he said. "Knowing that I could not myself say things of a legal nature, I asked Curtis if he would mind being in my show."
Coulter agreed and has become a regular fixture, imparting valuable, relevant information on each segment.
A final addition to the show were his dogs; Nicholas, a seven-year-old Coton DuTulear, who dutifully greats visitors at the shop each day, and Kachi, his two-year-old Akita.
"The magic they created in editing was unbelievable," said Wientjes who is very pleased with the result.
With the first show complete; they were ready to air it. Three 30-minute episodes have aired on local stations 2 and 21 every Saturday and Sunday. They are currently available to watch online on you tube.
After the first two shows were filmed, Bishop-Lyons Entertainment became interested in producing a pilot. They sent their "A Team" from Los Angeles to McCarran Auto Body in January. A crew of 10 worked tirelessly, putting in 12-hour days.
"This was truly a production," said Wientjes. "The professionalism and work ethic of the crew was truly outstanding."
They shot about 60 hours of footage to create a 26-minute pilot show for a potential reality series. "My crew and I agreed it was such a positive experience for us to work with them, said Wientjes. After they were finished, his office assistant Cheryl discovered that the crew had many, many accolades.
"The crew had been so down to earth and easy to work with, we had no idea of the magnitude of their previous success. Probably better that we didn't know, we were already a little nervous."
Wientjes grew up in Minnesota. His father purchased a car for him during high school -- a 1968 Camaro.
"It needed a paint job but I couldn't afford it so I said that I have to get a job at a body shop. That's what I did."
It was at A&G Auto Body in Rosemount, MN. While he worked there, he was taught to pinstripe and letter from Lloyd Vinge and learned custom painting from Jon Kosmoski (House of Kolors) whom brought his cars to Vinge for custom striping and lettering.
"I would always be hanging around and watching Lloyd, and received my first custom painting book from Jon."
Wientjes moved to Montana in the 1980s and worked at Classic Auto Repair before re-locating to Palm Springs, CA and finally settling in Reno, NV where he met his wife, Julie. He started working at McCarran Auto Body in 1993. When the shop became available in 1995, he decided to obtain it. By 2003, the 10,000 square foot strip mall location became a parking challenge due to no fenced parking. That same year a former cab company facility became available. It had sat vacant for several years and Wientjes said it was in pretty rough shape. However, the location was ideal and it had a 1.5 acre fenced yard, thus eliminating the task of moving cars out every morning to start work and securing them back inside the shop at the end of the day. After a few months of extensive remodeling, they relocated.
"Life has been so much easier with this configuration. We went from two roll up doors to 16," he said."I'm hands on. I'm a painter, I'm a body man, I do everything," said Wientjes.
He said this helps him get everything accomplished in the shop in case someone is sick or he needs to help out. Since filming the episodes, Wientjes said business has increased and customers now need to schedule appointments in advance.
When he first began filming he said he didn't feel comfortable in front of a camera. "Now I just do my job. I just forget about it and go to work," said Wientjes.