Click HERE to download a PDF of this article.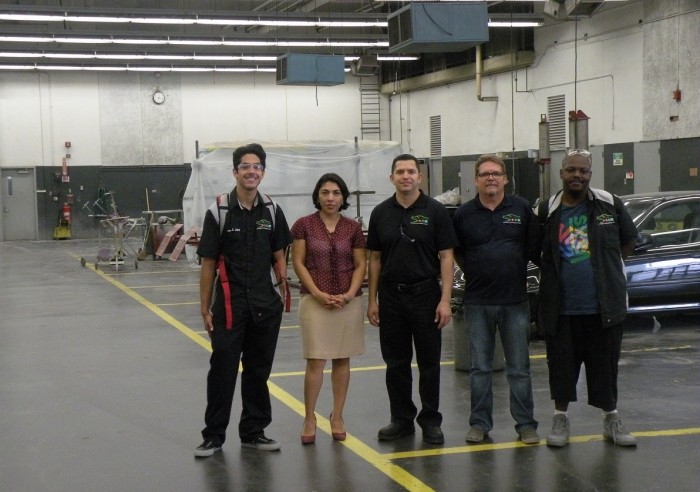 (l to r) Collision repair student, Jordan Lopez; Vice President of Academic Affairs and Workforce, Leticia Barajas; Department Chair of Advanced Transportation and Manufacturing, Jess Guerra; auto collision instructor, Brian Ferre; collision repair student, Alexander Meeks pose for a photo inside the LA Trade Tech collision repair instructional facilities.
Auto collision instructor Brian Ferre started off the tour acknowledging that the technical school was celebrating its 99th year of operation. He has taught collision repair for 30 years total; 10 of those years at LA Trade Tech.
"I've seen an increase in the number of students enrolling in collision repair courses," said Ferre. "A big part of that comes from the students promoting the program."
According to Ferre, there were 100 students enrolled in collision repair courses this past year, and a total of 200 students participating in the automotive program. LA Trade Tech offers Saturday courses, as well as daytime and night classes throughout the week.
"A lot of the students we get are trying to start a new life," said Leticia Barajas, Vice President of Academic Affairs and Workforce. She added that the average age of enrollment is 28.
She went on to discuss funding, and the impact donations have on program capabilities.
"Our faculty has been really good about trying to get donations, from paint to parts and so forth," Barajas said. "Recently we've been making some investments and improvements, but since we are a public institution, it takes forever to contract that. There are always a lot of challenges, but we're getting there."
Apart from vehicles and parts donated by Hot Rod magazine, Robaina Industries Inc., Celette, and the California Auto Body Association (CAA), students work on their own cars and buy what they need to repair them.
"The ability for students to work on their own cars is part of the draw," explained Ferre. "For safety reasons, we look at the state their car is in and make sure it's not too over their head."
The bumper repair and welding segments that make up the final project are based on the I-CAR certification program.
"Most of the students have older cars with parts that aren't available new anymore," said Ferre. "It would be nice if we could work on 2015 BMWs and Hondas, but we have to be realistic."
Barajas said there has been an increase in female students, which has allowed LA Trade Tech to take a more "innovative" approach, by incorporating an all female course into the curriculum. Autobody News was able to speak with a few of the students who had just finished up their final projects.
Elizabeth Lopez had just finished her first year of classes on the path to become an estimator; a career shared by other members of her family.
"I've always loved cars, so I figured, why not do something I love to do?" said Alexander Meeks. "It's hard work, but at the end of the day when you see the finished product, it's worth it. The best part is getting to do your hobby for a living."
Meeks and fellow collision repair student, Jose Mendoza, discussed the challenges they faced when they started taking classes, as well as their favorite projects.
"You got to make sure you're keeping everything straight, sanding it right, bumping out the dings perfectly, and not taking off too much metal," said Mendoza. "It takes a lot of practice, but once you get it right, you can do anything."
"When it comes to painting and refinishing, you have to make sure you're keeping temperature in mind," said Meeks. "We use different materials based on the temperature – if it's hot in here but cold outside, we might still use low temperature and vice versa."
All of the students agreed that working on a Cadillac, which had been donated to the program, was their favorite project of the year. The finished product will be featured at the SEMA show in November, which the students and faculty will be attending.
"I teach the same way I was taught – with a hands-on approach. The students tend to get discouraged when there is too much paperwork involved. It's all about what happens in the shop," concluded Ferre.