Click HERE to download a PDF of this article.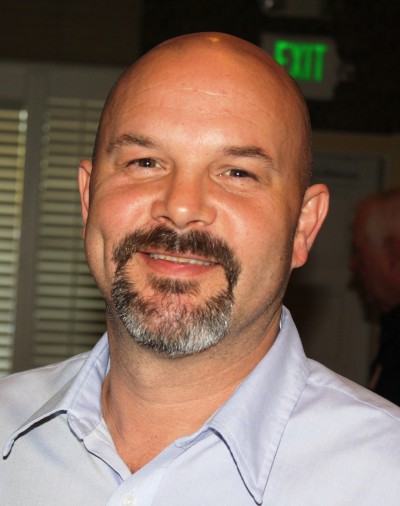 Vice President of National Certification for Assured Performance Aaron Clark was the evening's featured speaker.
Clark's fast-moving presentation covered a ton of territory, with topics ranging from aluminum to the right welders to use, to rivets and everything in between. To distill his message, here are five deliverables Clark emphasized during his 45-minute talk, followed by a Q&A session.
1. You May Be Too Late Already
Many of the OEs don't offer protected territories for certified shops (Ford, for example), which means that the shop down the street may already be one step ahead of you on the road to certification. Assured has had nearly 2,700 shops that have already applied and are in the process of becoming compliant, so if you're waiting for an invitation, here it is.
"You are late, but not too late if you jump on now," Clark said. "Others are gaining a head start by learning to leverage the credentials and marketing edge they gain by becoming certified. However, shops are not locked out of most markets by most OEM's. Therefore, shops can still get certified and protect their market position by leveraging the credentials and the powerful marketing advantage."
2. CAFÉ is Here to Stay
The politicians are trying to modify the stringent CAFÉ standards, but it's not going to happen, which means our cars are going to have to get lighter and faster pronto. Ten years from now, new cars will have to get 54.5 mpg, so there is much work to do. This is good news for shops with the proper tools, facilities and training including certifications, but not for those that aren't prepared for this rapidly evolving segment of the industry.
3. Not All Will Make the Grade
Not every shop is suited to repair aluminum vehicles and not every shop wants to. Not every shop covets certifications or is willing to get the required tools, equipment and training to get there. The fact is that nearly 40% of all the shops that apply for certification with Assured Performance don't make it for varied reasons.
Clark added that "It is a business development process that has a prize at the end and a return on investment for many years to come. Now it the time for shops to step up."
"Curb appeal" is becoming more important, as the collision industry continues to spruce itself up across the board, primarily in response to the new technology, consolidation and more discerning customers that can research any shop online with a few clicks of a mouse.
If you can't build trust with your customers, they will flee—stats prove that 60% of all consumers will switch to another shop within 12 months if they lose confidence in any way and not being certified to work on their car might definitely be one.
4. Cars are Changing While You're Reading This
Within the last three years, carmakers have debuted new cars or redesigned existing brands 240 times, with Honda/Toyota, GM and Chrysler/Fiat leading the way. To meet CAFÉ standards, how many more of these debuts and redesigns will happen before they reach 54.5 mpg by 2025? You don't need to be a mathematician or a car designer to know that today's vehicles will be much different in a decade, and even 2-3 years from now.
5. The Age of Differentiation
With so many players' names on the scorecard, how do you stand out from the rest of the bunch? Unless you're Mike Trout, you may need the right tools, equipment and training to get noticed by the consumers, community and insurance companies—all of which are crucial to the success of your business. When a consumer is doing its diligence and looking for the best shop to work with, certifications can surely be the tipping point and often are.
In closing, Clark made the statement that "Any shop will always be able to fix a vehicle wrong – but without the proper tools, equipment, and training they will never be able to fix it right. Do you have what it takes? If so, make sure that the consumers know this and get certified."