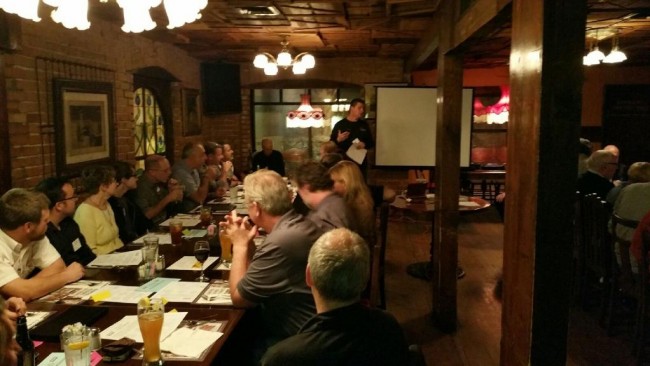 Luz Rubio, Executive Director of ASA-AZ, says "January kicked off at the Phoenix Chapter with a bang! Four new members were introduced, and Bell Auto Service was celebrating their 40 years in service. A very diverse group of over 40 attendees that included shop owners, managers and spouses were interacting and sharing."
Boasting 30 years of small business experience and 16 years of experience in Fortune 100 Corporate, Harter possesses an unparalleled understanding of the many traits needed for a small business owner to be successful. He aids their growth with strategic marketing techniques, including traditional marketing elements as well as mobile and social media platforms. Harter also shares ideas for improving operational proficiency and efficiency.
In his presentation "Becoming a Marketingpreneur," Harter shared tips for marketing a business on a limited budget. Attendees received a plethora of suggestions on creating advertising campaigns and how to develop a marketing plan. Harter explained which types of marketing to employ, discussing the pros and cons of advertising through traditional print, radio, TV, mobile and/or social media outlets. Highlights of the presentation included the identification of the audience, image, message and the call to action.
Rubio states, "the audience learned that social media is very important as is updating your shop's online presence through all of those means. Owning your business radius is also imperative. Many questions were raised specific to shops and how to effectively produce advertisements that will get the attention of the customer."
Three chapters of ASA-AZ already have scheduled roundtable events for February. On the evening of Thursday, February 5, the West Valley chapter meeting will be held at Tech 1 Auto in Peoria. The next Wednesday, February 11 will begin with the Central Chapter's 7AM Roundtable event at Coco's in Phoenix. One week later, on February 18, American Auto Recycling in Gilbert will host the East Valley Chapter's Roundtable at 6:30PM. RSVPs are required, and reservations are being accepted through the association's website.ASA-AZ
PO Box 81517
Phoenix, AZ 85069
602-544-2600
www.asaaz.org